Places to visit within a
2-hour drive of Mialet
From Chateaux and Roman ruins to beautiful villages and sumptuous gardens, there are innumerable places to discover within a 2-hour drive of Mialet. There is something for everyone and because we have been to nearly every destination on the suggested places to visit list below, you can be sure they come highly recommended.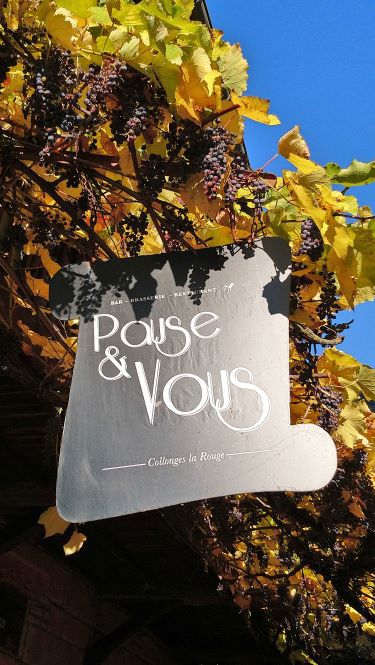 South West France
The Dordogne is France's third-largest department located in the South West of France in the region of the Nouvelle-Aquitaine. Named after the great Dordogne river, it lies between the Loire Valley and the Pyrenees and is landlocked by seven other departments; Haute-Vienne, Correze, Lot, Lot-et-Garonne, Gironde, Charente and the Charente Maritime.
Full of old villages, castles, small country towns it's perfect for both relaxing and enjoying holidays. While the department of the Dordogne itself is increasingly geared to tourism, much of the surrounding area, particularly further into the hills, is very much "off the beaten track", and just waiting to be discovered.
France has 159 villages classified as the most beautiful villages in France. There are 15 in our region highlighted in red below.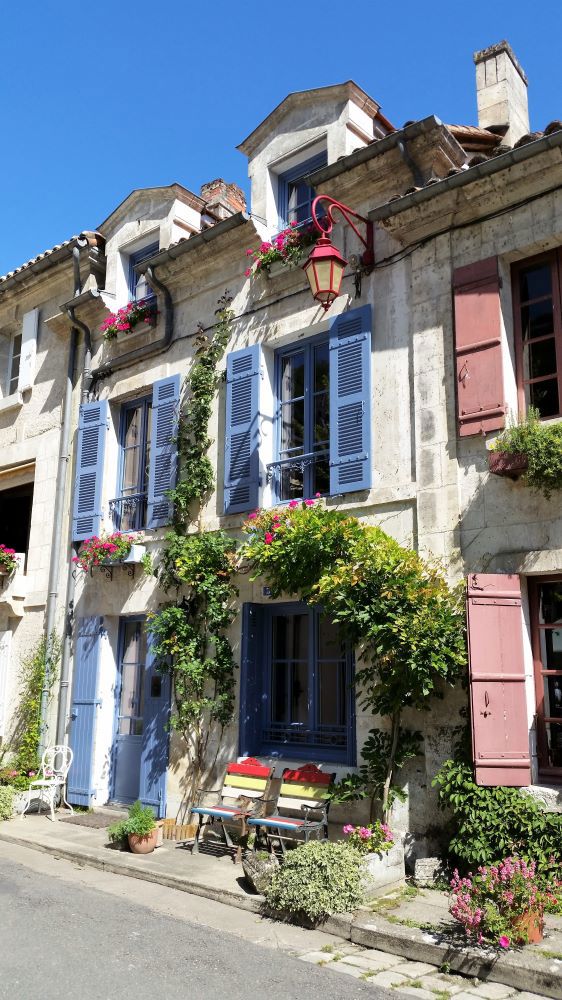 To our South - The Dordogne
The Dordogne (known in France as the Perigord) is made up of four distinct areas. To the north, the forested Perigord Vert (green) is crossed by rivers with Nontron as its main town. The Perigord Blanc (white) in the centre is an area of limestone, wide valleys and meadows and has Perigueux as its capital. In the southwest, the Perigord Pourpre (purple) is the wine region around Bergerac. The South-East part is called the Perigord Noir (black) which surrounds the highly acclaimed medieval village of Sarlat and is called black after the local woods of oak and pine.
Highlights of the Dordogne:
Vineyards of Bergerac
Chateau de Beynac
Brantome
Chateau de Castelnaud
Museum of prehistory, Les Eyzies
Lascaux
Montpazier
Perigold-Limousin regional national park
Roman Museum, Perigueux
Sarlat-la-Caneda
Some of the places below we have already covered in detail under our top 12 best places to visit/ To assist we have added a rough guide to how long it will take you to drive from our gite in Mialet.
PERIGORD VERT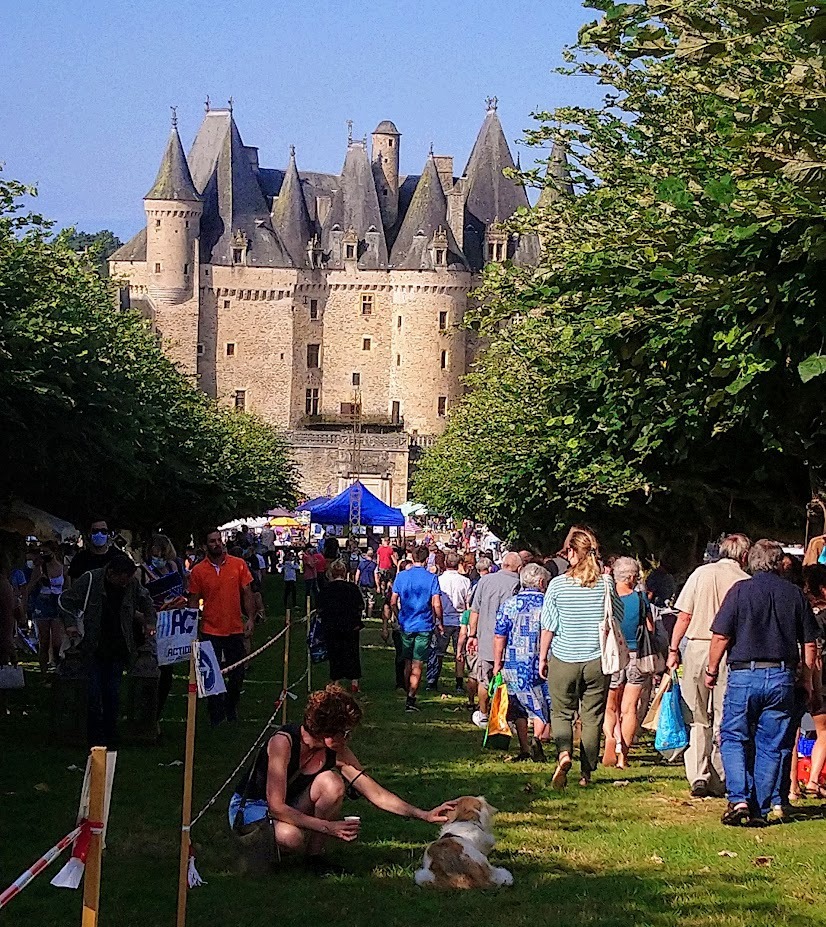 Jumilhac Castle as a backdrop to a car boot sale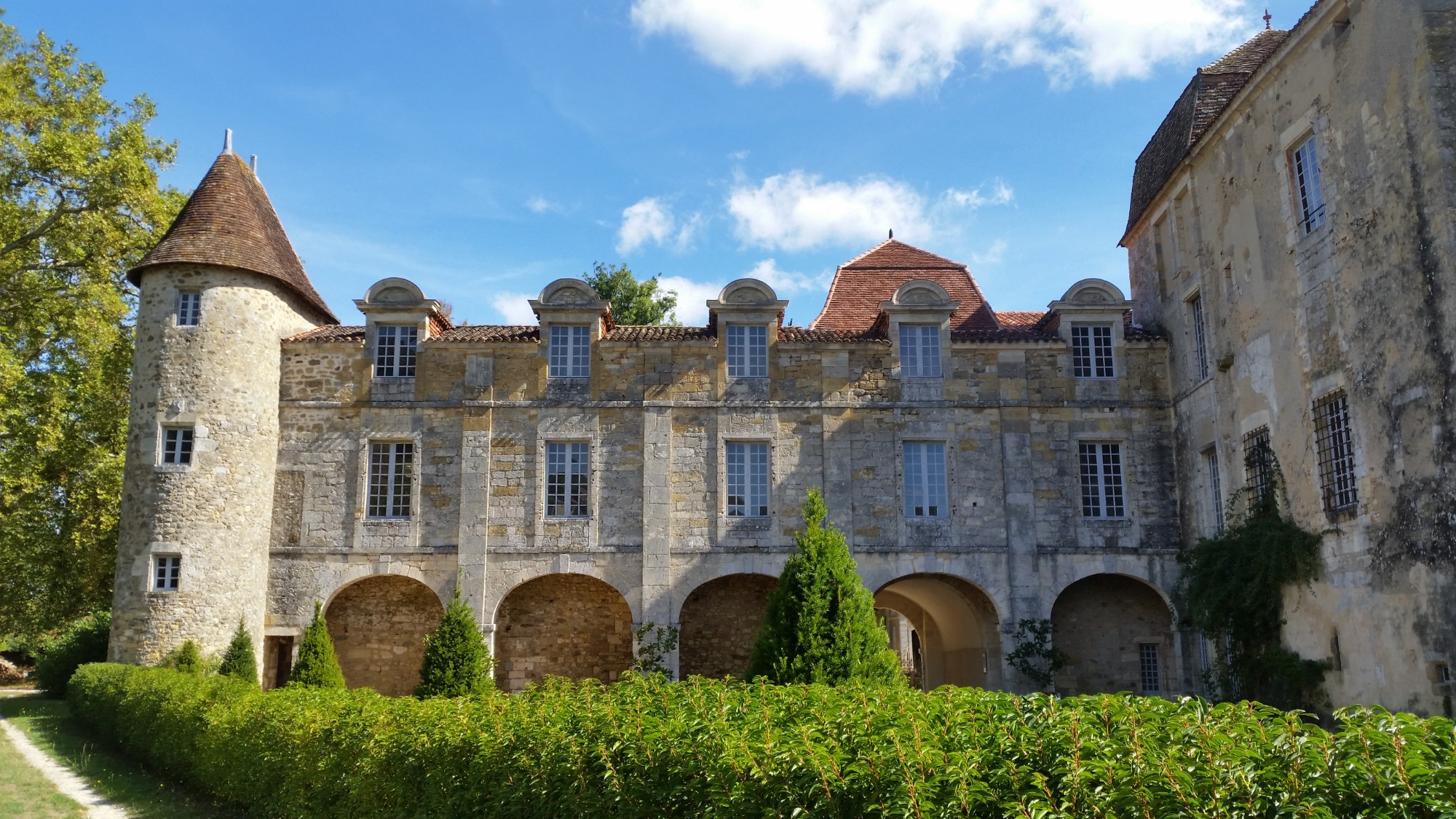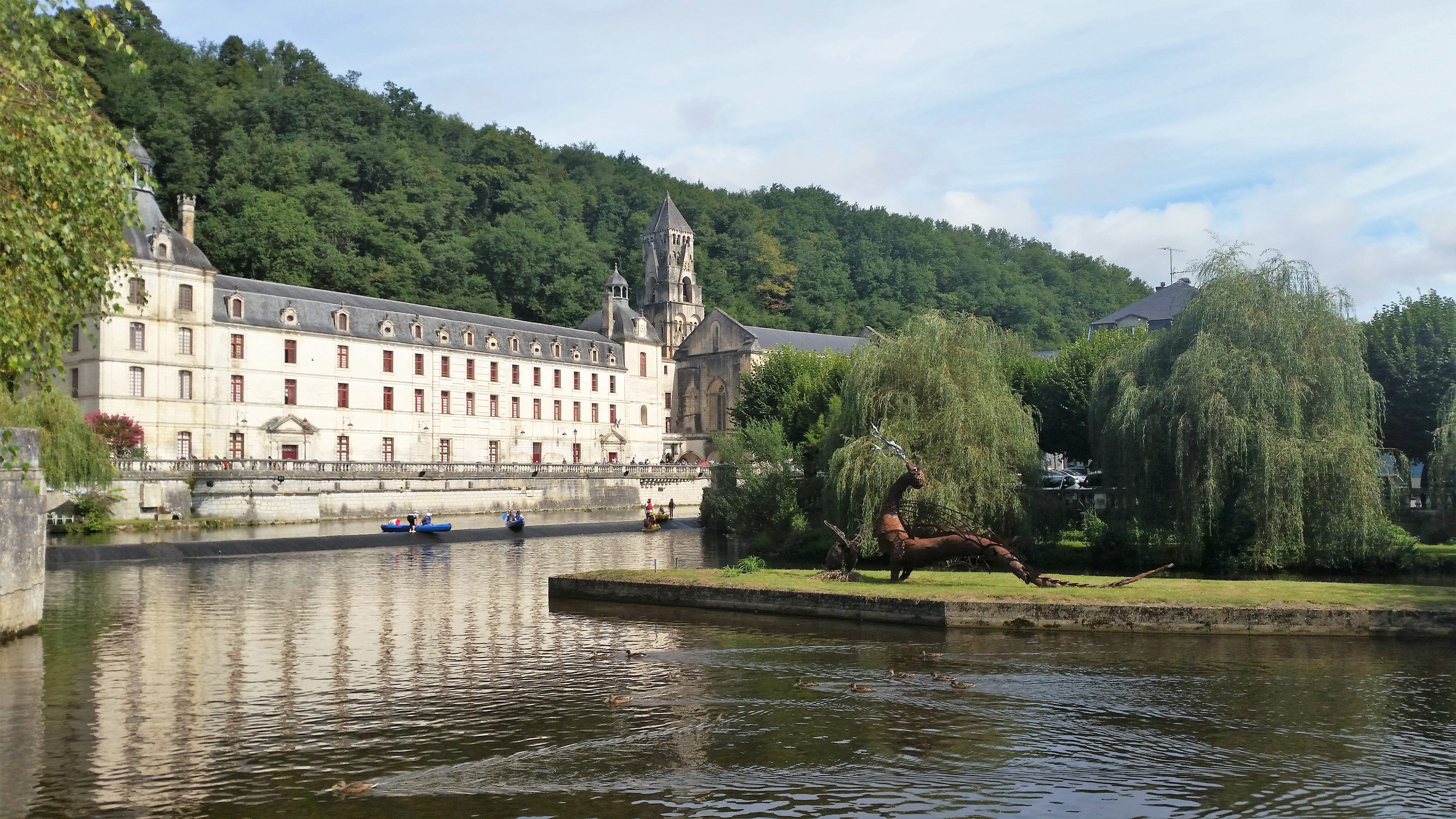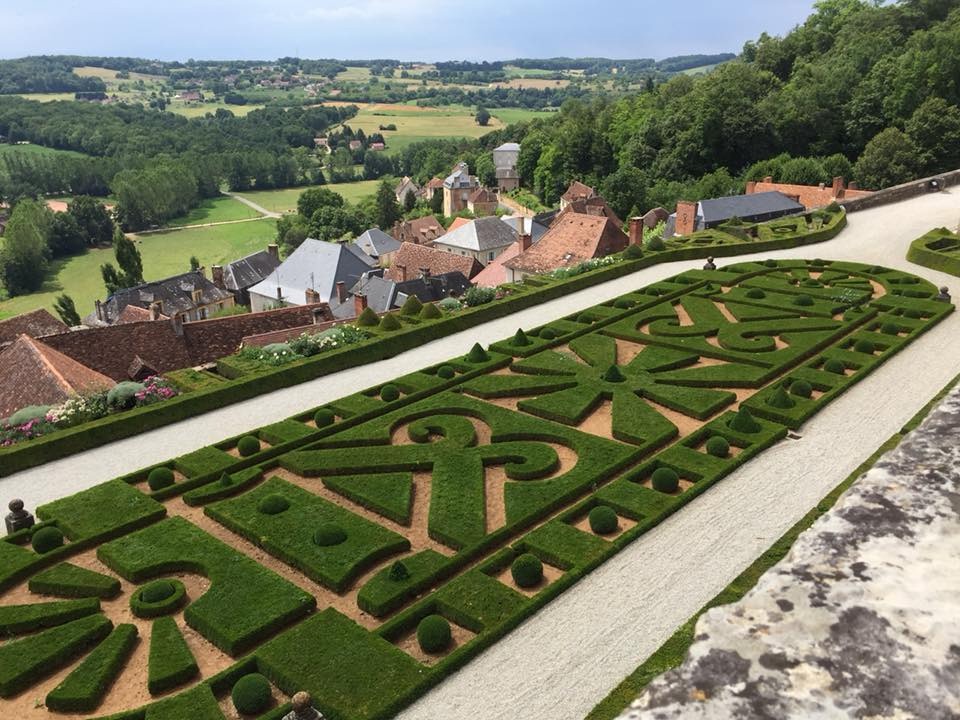 Chateau Hautefort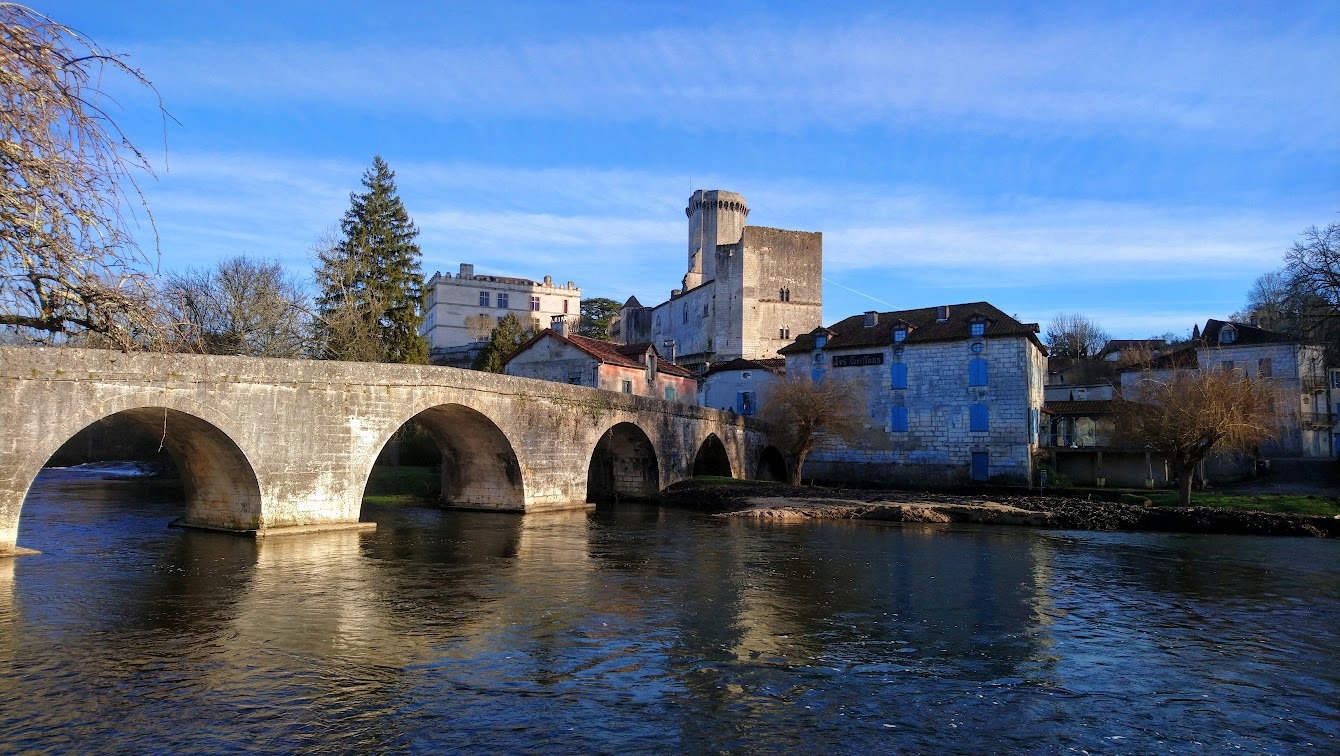 The Chateau at Bordeilles
What to visit:
1. Jumilac le Grande (22mins/18.3km) (See top 12)
2. St Jean de Cole (22mins/22.7km) (See top 12)
3. Grottes de Villars (20 mins/19.4km) (See top 12)
4. Chateau Puyguilhem (24mins/22.9km)
Sits in a spectacular setting with forests closing in on the back and open meadows to the front. It was constructed in the 16th century and it is similar in style to those of the Loire Valley.
5. Boschaud Abbey (24 mins/24km)
The Cistercian Abbey of Boschaud is today a stunning ruin, its name derives from Bosco Cavo meaning wooded dell which best describes its beautiful location. Founded in the 12th century and partly destroyed during the Wars of Religion, the Abbey has an air of spirituality about it.
NB Grottes de Villars, Chateau Puyguilhem and Boschaud Abbey are right next to each other
6. Nontron (28mins/24km)
Set up high, Nontron is the centre of the Perigord Vert and is building a reputation for the arts which can be found in the 'Espace des Arts'. Nearby you can visit the workshops of the famous 'Nontron Knives' which have been made there for over 500 years.
7. Piégut-Pluviers (29 mins/24km)
Since 1642, an important market has been held here on Wednesday mornings which lines the pretty streets. Great selection of Dordogne and Charente food and a great place to buy the famous Charente slippers.
8. Velorail du Perigord Vert (29mins/29.4km) (See top 12)
9. Brantome (36min/35.1km) (See top 12)
10. Excideuil (37mins/37.9km)
This pretty town with very busy Thursday market has a number of reasons to visit. It has a lovely market square near the 12th-century castle which is reputed to have repelled Richard the Lionheart on three occasions. Excideuil is also the home of the oldest building on the Dordogne, the 12th-century hospital. A village fountain and a selection of other old buildings make this a popular place for tourists.
11. Chateau Hautefort (55mins/53.9km)
Stands proudly above the village and is listed as a historical monument. It's, without doubt, one of the most remarkable 12th-century chateaux in the Dordogne. Its elegant rooms inside are luxuriously decorated with furniture from the 17th and 18th However, it's the meticulous French-style gardens that most people go to see which are particularly beautiful. Landscaped by top French designer Comte de Choulet in 1853, the geometrically cut flower sections and topiary are very photogenic. Below is the village, where there is a small museum dedicated to medicine.
12. Bourdeilles (43min/44km)
This stunning village has a castle, mill, medieval village and panoramic viewpoints over the river Dronne. The castle is actually two inside the same grounds, a 13th-century fortress, and a 16th-century renaissance building. Inside this can be which displays found some beautifully furnished rooms featuring items from the 16th to 19th century. The most beautiful is the 'Salon Dore' or golden room. The gardens are laid out in a typically French style. Visit the 12th-century church and see the attached medieval garden leading down to the river. This village is a lovely place to stop off for lunch and watch the world go quietly by.
13. Grotte de Tourtoirac (49mins/47km)
The village itself is very pretty centred on a Benedictine abbey which displays tools and weapons found in excavations. See the 18th century 'Manoir de la Farge' and tannery. Just outside the village caves were discovered in 1998 which opened to the public in 2010 showcasing illuminated stalactites and stalagmites. It also has some quite rare small twisted stalactites called excentriques.
14. Riberac (1hr 10mins/68.2km)
Dating from the 9th century, this town is pleasant with no attractions except acting a host to the biggest market in the Dordogne every Friday.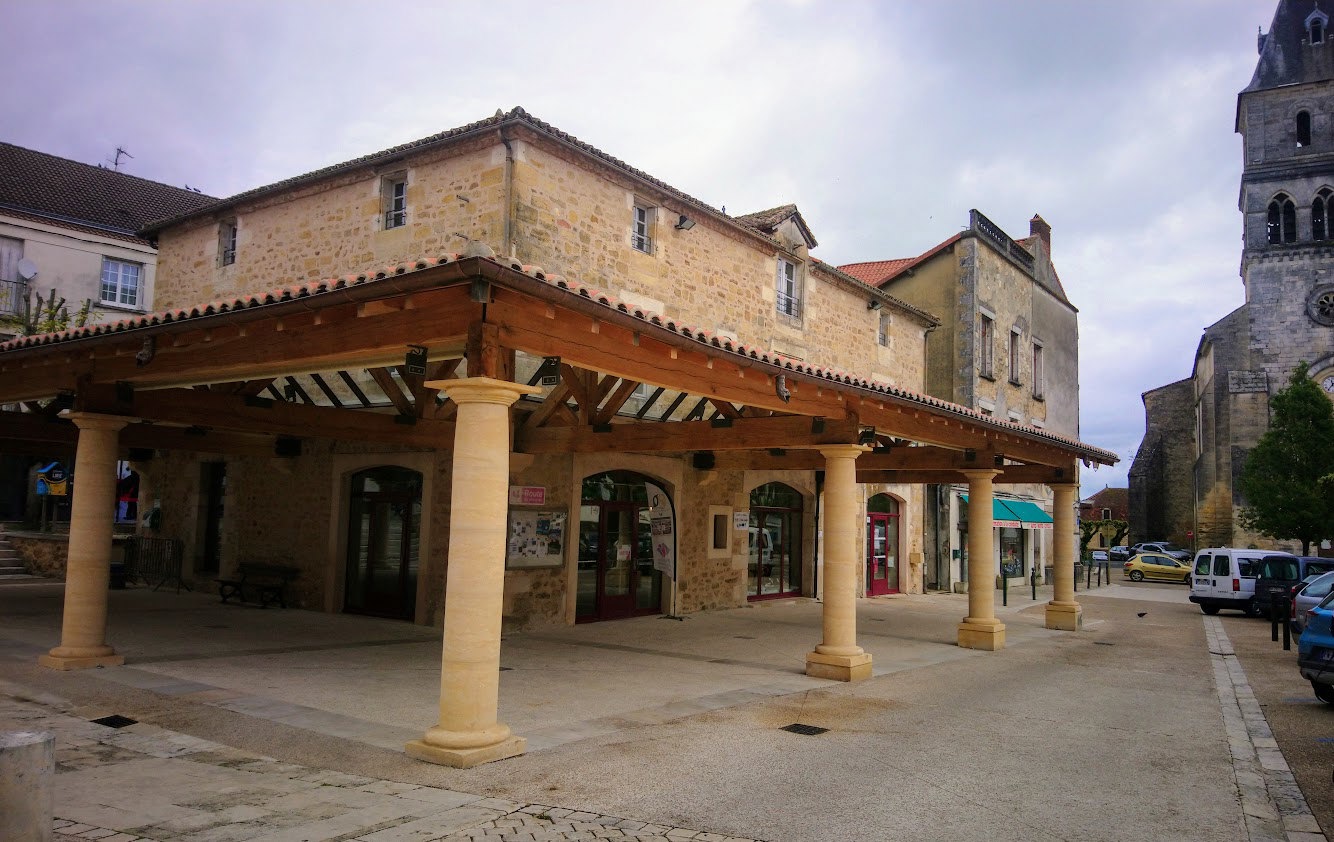 Foie gras museum, Thiviers
PERIGORD BLANC
What to visit
Thiviers (19 mins/21.4km)
An unremarkable town but worth visiting on a Saturday morning for its bustling market and tourist information centre that is also home to the 'Fois Gras' museum. The town hall is also open as a museum dedicated to the history of locally produced Faience (pottery) but is only open on a Saturday.
Sorges (31mins/35.3km)
Sorges is the centre of the world-famous Perigord Black Truffle, visit it and walk through marked forest paths to view truffle forests. A museum within the tourist information centre is useful for background information and offers truffle hunting trips in season.
Perigueux (53mins/54.6km) (See top 12)
PERIGORD NOIR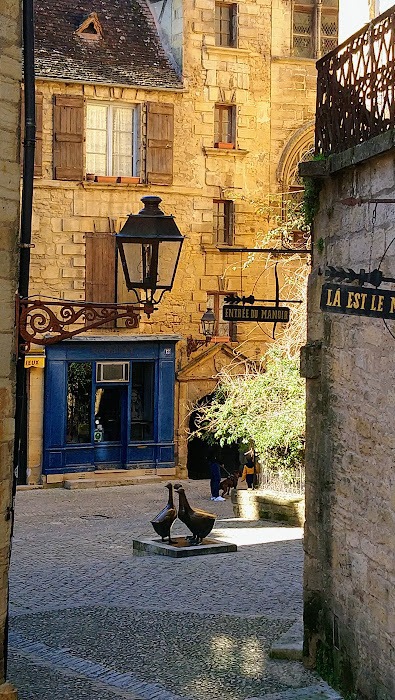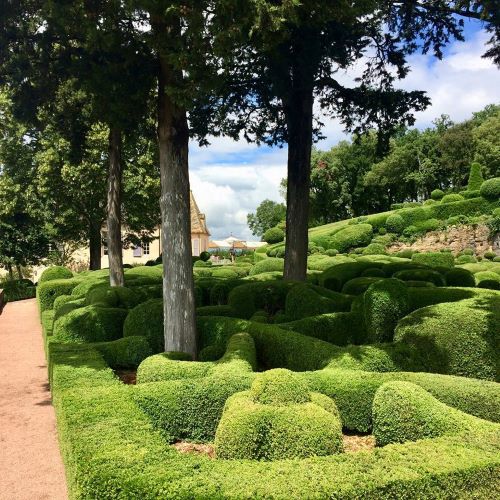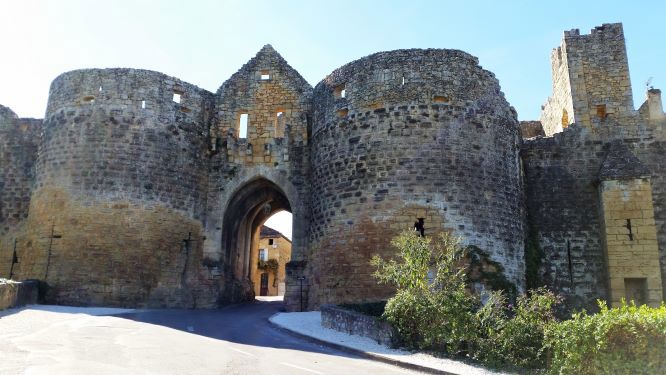 What to visit in the Dordogne valley:
La Roque Gagnac (1hr 26mins/83.2km)
Another of France's beautiful village's, its picture-perfect with houses made of golden stone. Walk up the hillside past a delightful tropical garden to reach the fort on the top. This is another place you can take the 'Gabarre'.
Sarlat le Caneda (1hr 44mins/104km)
This is the most visited place in the Dordogne and is a superb example of a restored medieval town. It has the highest density of historic and classified monuments in France. Narrow cobbled streets in the centre are filled with small boutiques selling local produce including fois gras and walnut based items. There is a market on Wednesday mornings but the size is amplified on a Saturday morning when the whole centre is filled with stalls and is the best market in the region by far. Visit the cathedral and the 'Manoir de Gisson' for a glimpse into a world gone by. Finally, the panoramic lift open in the summer gives a wonderful 360 degrees view of the town.
Beynac et Cazenac

(1 hr 46mins/114km)
One of France's most beautiful villages, located on the banks of the Dordogne river, has a stunning 12th-century castle which towers over the village. A 45 minute trip on a traditional 'Gabarre' boat is the best way to view the area including a number of chateaux that follow the river line.
Chateau Milandes (1hr 53mins/116km)
Built-in 1489, this lovely Renaissance castle has many gothic features. Bought I the 1920s by the dancer Josephine Baker, it houses a fine collection of her clothes and covers the history of her life at the chateau. The adjoining park is beautiful and there is a bird of prey aviary there too.
Gardens of Marqueyssac (1hr 53 mins/117km)
The suspended gardens of Marqueyssac are listed as a national monument and are the most popular gardens in the Dordogne. Situated on a spur it has probably the best advantage point to see a panoramic view of the Dordogne valley. Much of it is in clipped and softly shaped boxwood, dating back to the 19th century and is very much in keeping with its environment.
Chateau Castlenaud (1hr 53 mins/119km)
This 12th-century medieval fortress offers superb panoramic views over the Dordogne valley. It houses an important collection of weapons and armoury. See a recreated siege machine from the middle ages.
Domme (1hr 55 mins/116km)
A third of a trio of beautiful villages in the area, Domme doesn't disappoint. The village is pretty and is located quite high up the hillside, offers a fantastic view of the river. Visit the cave system under the main square called the 'Grottes de Domme'. The public park is a lovely place to have a picnic.
Chateau Felenon (2hr 6 mins/116km)
The 13th-century castle on banks of the Dordogne is furnished in the style of the middle ages. Interesting curiosities room from world travels. Three bedrooms of mention too, Louis 13th, Louis 16th, and 1st empire style. Drew Barrymore was filmed here in 'Ever After'…
Chateau Biron (2hr 7 mins/130km)
This 13th-century castle on the bank of the Dordogne has an extremely interesting history. The ramparts are reputed to be haunted by Charles du Gontaut, beheaded there in 1602.
The Vezere valley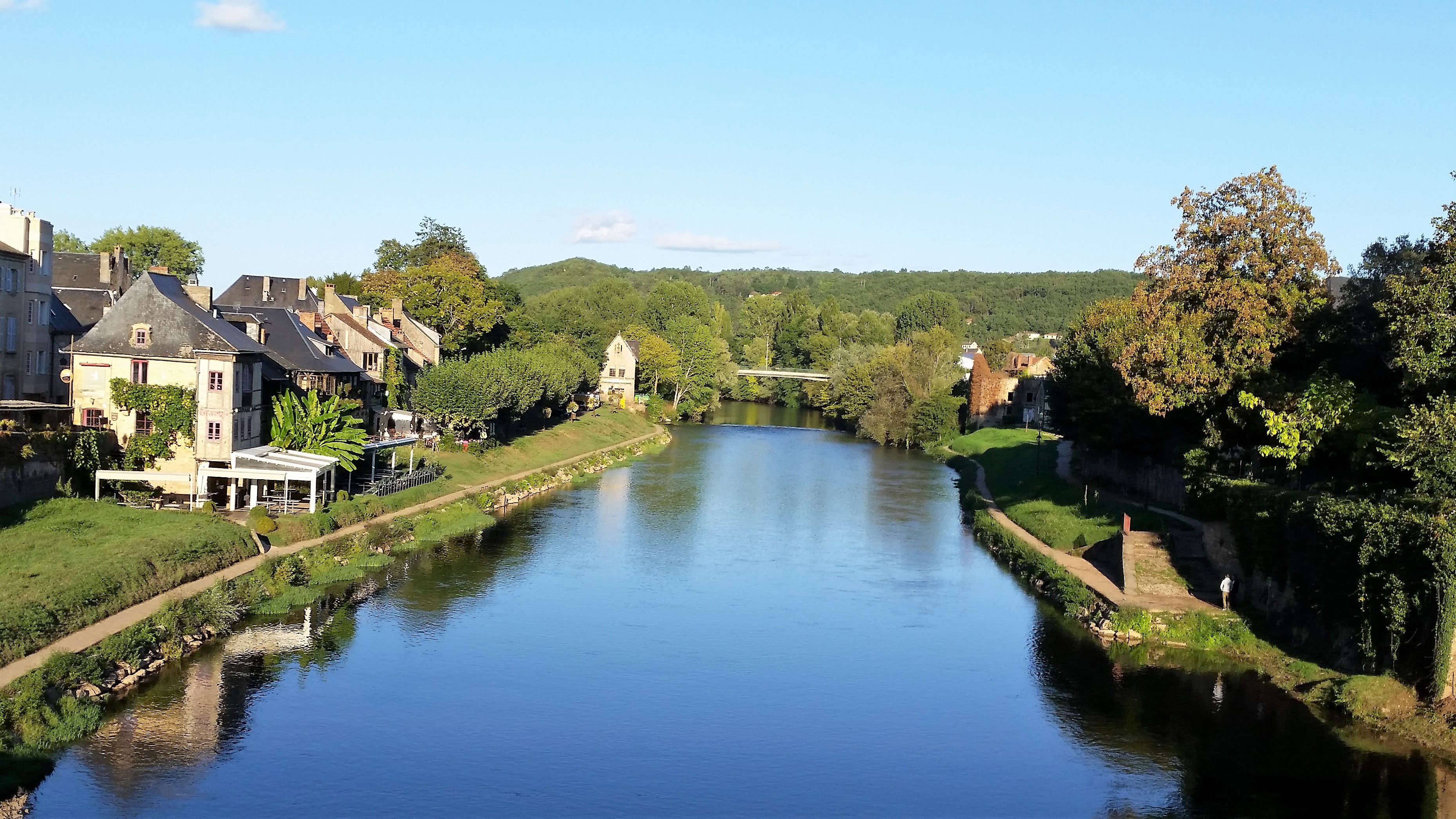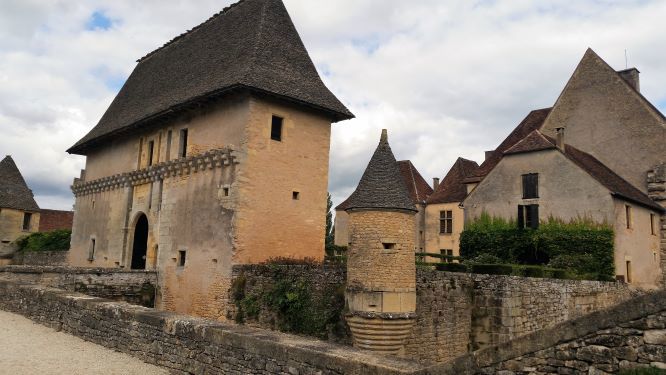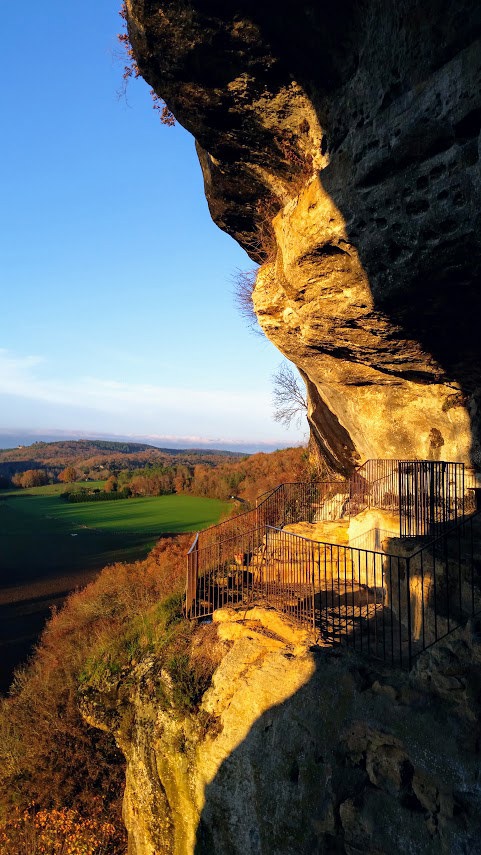 Montignac (1hr 19mins/78km)
A really lovely village on the banks of the Vezere, crossed by an attractive stone bridge. There are many half-timbered houses amongst the boutiques and eateries. Walk along the river to the ruined castle which offers a great view over the town.
Saint Amand de Coly (1 hr 21mins/83.5km)
This is also another nearby 'Beautiful village' set in a wooded area and typifies the Dordogne with tile roofs and yellow stone walls. It's dominated by a huge church next to a ruined abbey. See the 'lavoir' a designated area by the river used for communal washing in times gone by.
Chateau de Losse (1hr 25mins/81.5km)
On the banks of the Vezere sits this very attractive moated renaissance castle built inside a medieval fortress. Its fortified gatehouse is the largest in Europe and once inside there is a large terrace which boasts a stunning view over the river and surrounding countryside. The rooms are furnished with 15th and 16th-century furniture. The formal French gardens are just beautiful, then finish your visit with tea in the 'Princess Garden'
La Roc Saint Christophe (1hr 26mins/83km)
This is an amazing 5 terraced troglodyte village built halfway up a cliff in the Vezere valley. Here Neanderthal man lived some 50 000 years ago and man continued to do so until 1588 when the village was destroyed in the 'Wars of Religion'. At its peak, the town had hundreds of houses and about a thousand people.
St Leon sur Vezere (1hr 26mins/82km)
Another of Frances beautiful villages, it is located on the Vezere river. Many of the houses still have remarkable stone rooves. The church is one of the oldest roman style churches in the Dordogne and has a lovely square bell tower. The village has a number of craft shops and is a particularly pleasant place to stop for lunch.
Maison Forte de Reignac (1hr 27mins/84.3km)
This is a manor house built into the rock face and is only one of its kind in France. Built-in the 14th century, the rooms today are furnished in period style. At the base, you will find a torture museum including over 60 original instruments of torture used over the centuries with a relevant explanation!
Les Eyzies de Tayac Sireuil (1hr 28mins/96.5km)
Located in the heart of the Vezere valley which is a UNESCO site for prehistoric caves, you will find Les Eyzies. It has troglodyte dwellings, caves and a prehistoric museum which has the world's largest collection of prehistoric artefacts. The 'Font de Gaume' caves are particularly interesting as they are one of only a few which still have the original polychrome cave paintings. With over 200 to see, get there early or pre-book as numbers to see them are limited in a bid to protect their longevity. Another cave worth visiting for incredible stalactites and stalagmites is the 'Grotte du Grand Roc' for its fairyland like interior.
PERIGORD POURPRE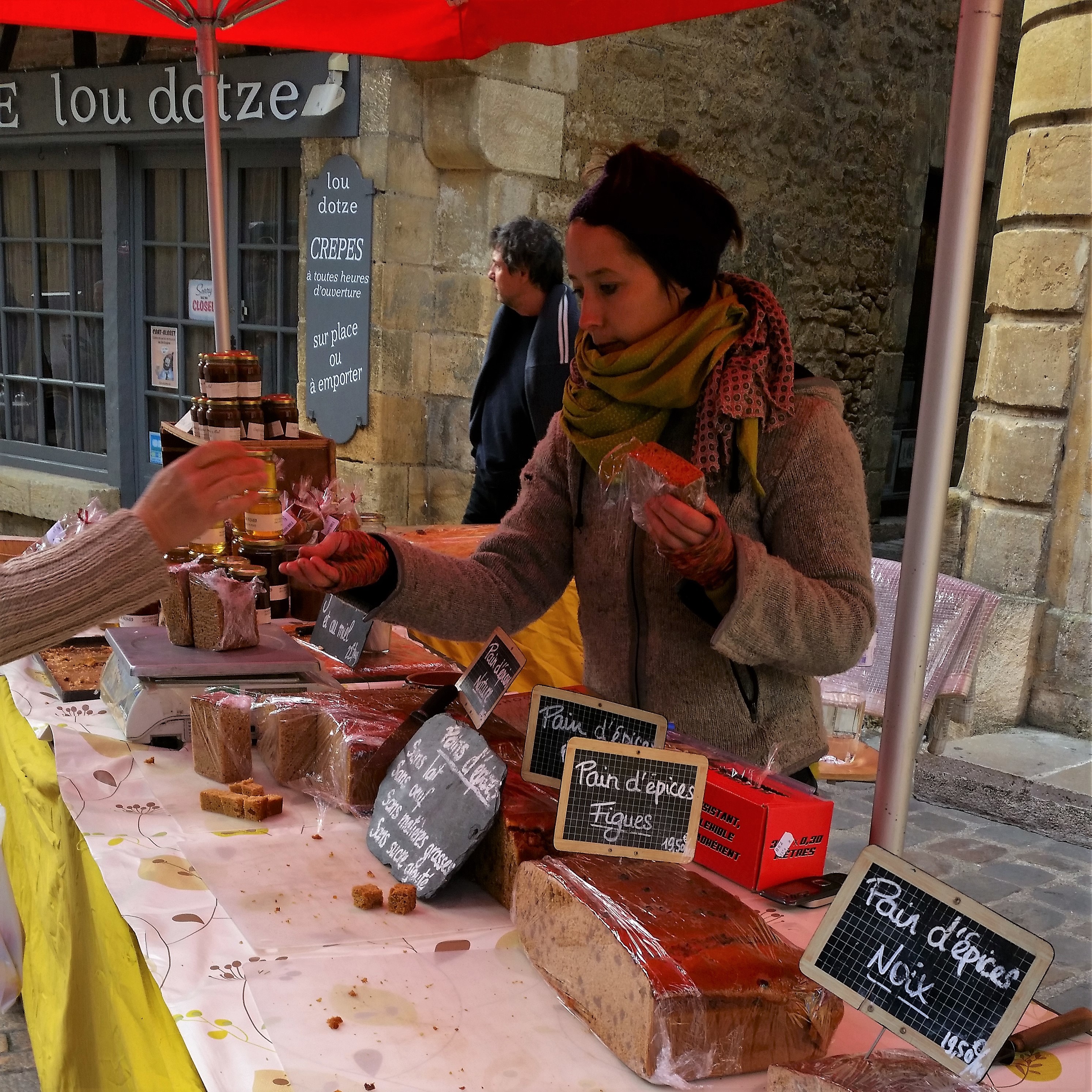 The Sunday market in Issigeac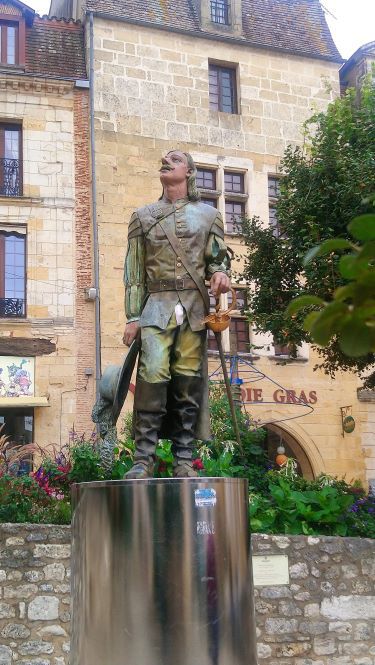 What to visit
Issigeac (1hr 19 mins/146km)
This is a beautiful village to visit to just wander the narrow streets and enjoy. Look out for the 600-year-old 'Maison des Tetes' and marvel at the carved wooden heads. Its Sunday morning market is becoming legendary and brings crowds in droves for the local produce and of course wine.
Limeuil

(1hr 27mins/96.7km)
One of Frances beautiful villages, Limeuil with its cobbled streets and river location is certainly picture postcard. Visit the panoramic gardens at the top of the hill for amazing views.
St Avit Senieur

(1hr 38mins/113km)
The bastide village of St Avit Senieur is visited primarily for its ruined 13th century which features a number of fading frescoes worth seeing.
Bergerac (1hr 39 mins/103km)
Bergerac is full of art and history, head for the old town which centres on a statue of Cyrano and visit the 'Tobacco Museum' recounting over 3000 years of history. Stroll along the quay to see the 'Maison du Vin de Bergerac' located in a stunning 17th-century mansion and partake of a free tasting! The market is on Wednesdays and Saturday by the Notre Dame church. Take time out and view Bergerac by an old riverboat.
Cadouin (1 hr 40mins/107km)
This small medieval village is classified as one of three major sites found in Aquitaine, due to its famous abbey founded in 1115. It became a major place of pilgrimage in the Middle Ages as was reputed to have a piece of the shroud of Jesus Christ. Sadly in 1930, the cloth was found to be from the 12th century, none the less the abbey is well worth a visit.
Monbazillac (1 hr 40mins/109km)
This small village with its imposing 16th century Renaissance castle is renowned for its sweet wine, named after the town itself. The Chateau runs wine tastings and is well worth a visit.
Beaumont-du-Perigord (1hr 53mins/118km)
Perched on a hill this medieval village is also one of 18 bastide towns in the area. The imposing church Saint-Laurent-Saint-Font is considered the most beautiful fortified church in South West France.
Montpazier (1hr 58 mins/122km)
Another of France's beautiful villages, this is an outstanding walled medieval village which has changed little since it was a founded in 1284 in the name of the English king, by Edward I. It's a delightful walk around not only for the stunning architecture but also its quaint craft shops and leafy cornered eateries. Its Thursday market is over 700 years old.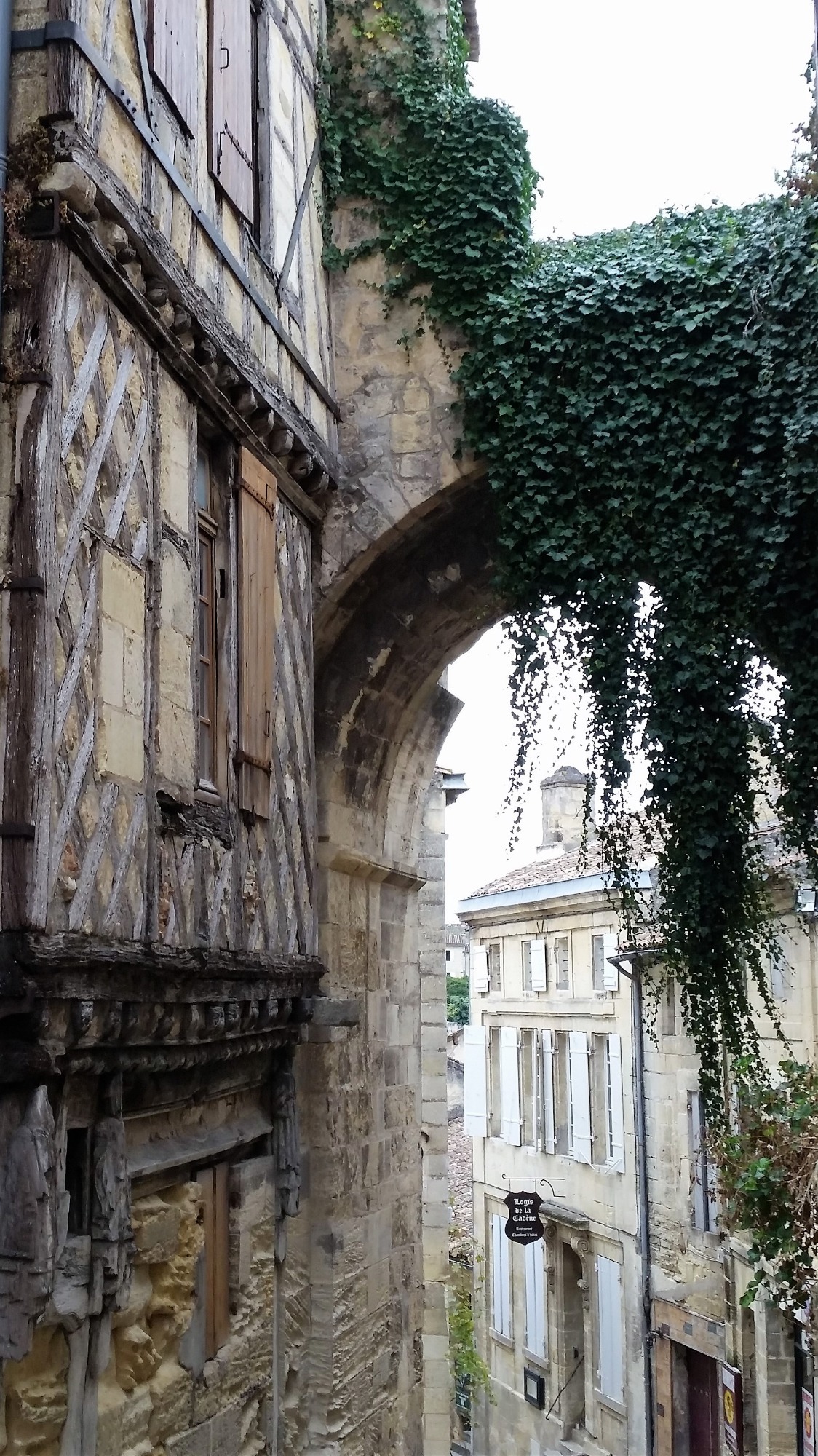 St Emilion
Don't miss nearby:
St Emilion (1 hr 58 mins/148 km)
The world heritage medieval centre of St Emilion is an absolute must for wine lovers, for not only is it very beautiful but every other shop sells the red nectar. Located in a microclimate perfect for vine growing there are countless vineyards all producing the best quality red wine that's famous across the world? Chateaux producing estates surrounding the village offer tastings, a great experience to sample some of if not the best wine in France. In the village itself a must is a visit to the underground 12th century Monolithic church, take the 45-minute tour which covers another three sites too. Climb the 196 steps of the 68m high bell tower for an unrivalled view. Once the day-trippers have gone stay for a twilight tour with a night-watchman and fall in love even more with this magical place.
To our North – Haut Vienne part of The Limousin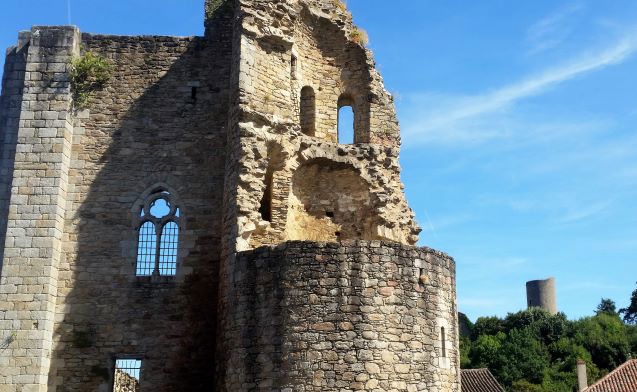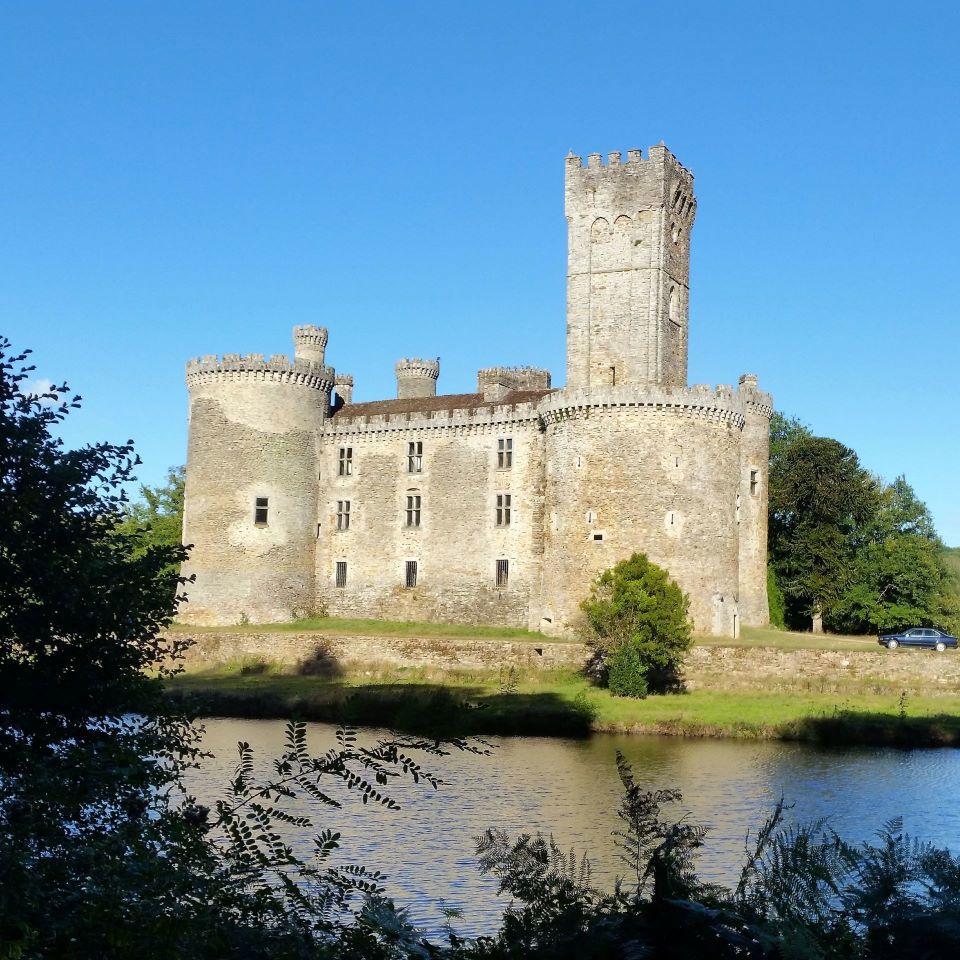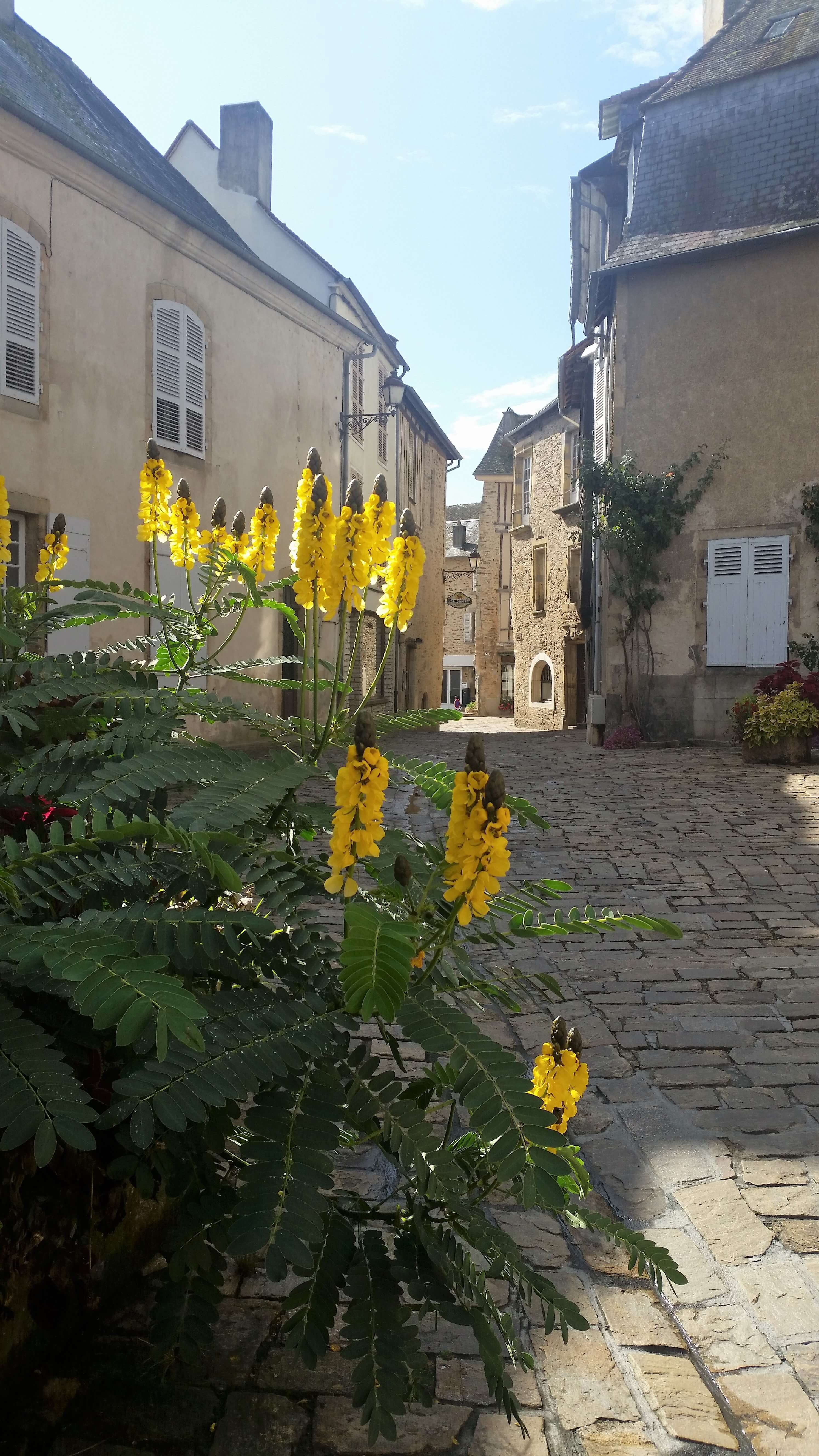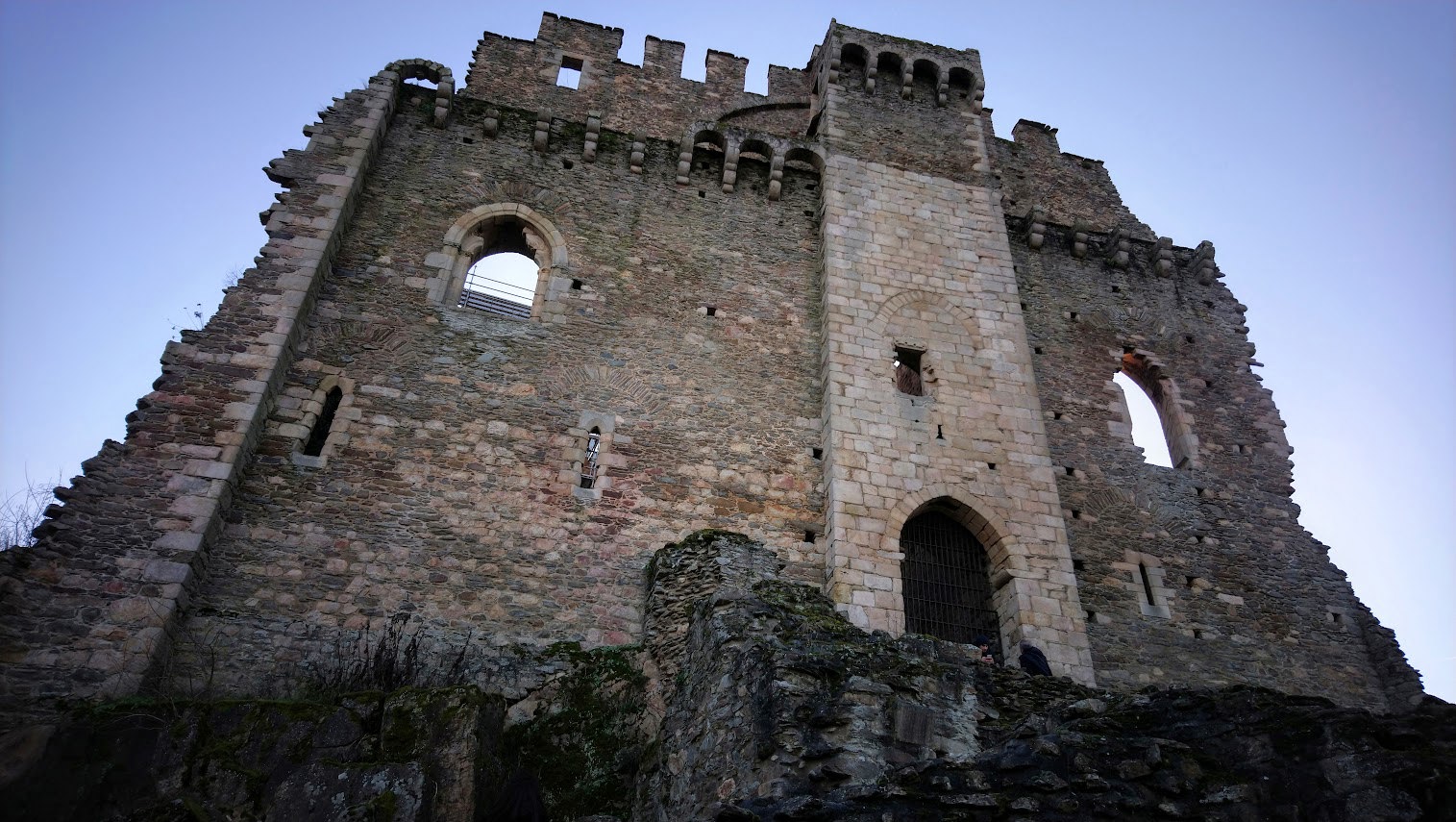 The ruins of Chalucet Castle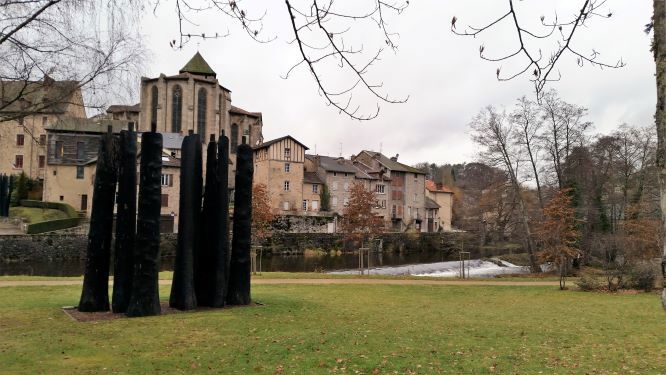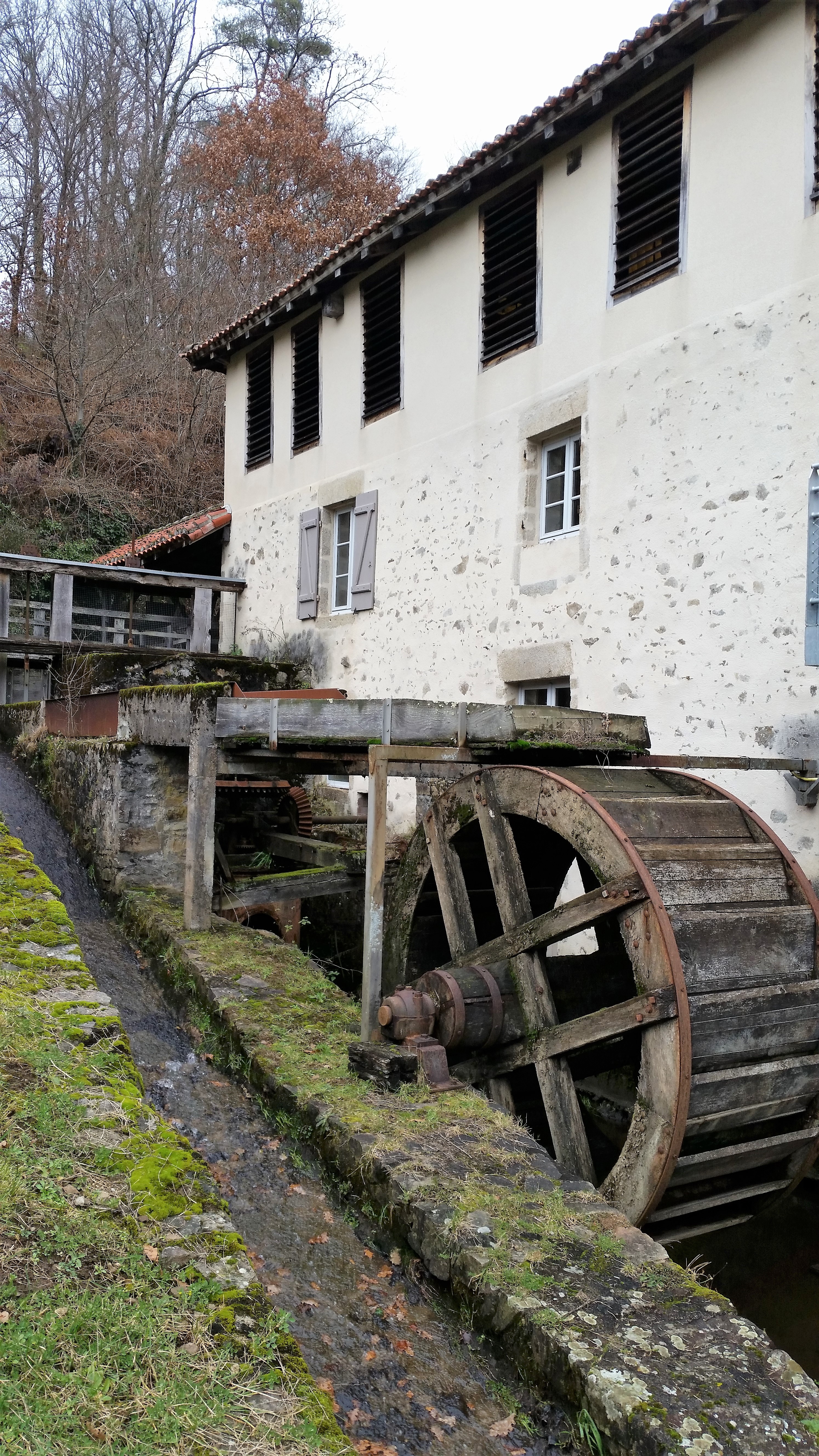 The Haute-Vienne is the north-western department of the Limousin region of southern-central France, with the Centre (Loire Valley) region to the north, Poitou-Charentes to the west and the Dordogne to the south. As you might guess from the name the River Vienne crosses the department.
While many visitors are first attracted to the Haute-Vienne by the quiet unspoiled countryside, which includes parts of two Regional Natural Parks (Perigord-Limousin and Millevaches) there are also a good number of interesting villages and towns, museums, and historic monuments, to add variety to your visit.
Places to visit:
Chateau de Chalus Chabrol (16mins/15.8km) (See Top 12)
Chateau de Montbrun Dournazac (17mins/11.7km)
Built in 1179, this historic castle has been completely renovated with 500 acres of land and is today up for sale. It is located on a moated island and is a stunning location for photography, especially at the start and end of the day. Dournazac village has a Chestnut museum and an annual weekend fete dedicated to the Chestnut in late October.
Chateau de Brie (22mins/18.3km)
On the Richard the Lionheart route, this fortified house was built in 1484 in gothic style. Fully furnished the castle also includes an automata world where 70 animated characters take you to the four corners of the world. Used nowadays as a wedding venue.
4. Chateau de Lastours (28mins/25.4km)
On the Richard the Lionheart route, the castle is now a ruin and is used in the summer months for period events and medieval festivals. At 10 pm on selected days, costumed volunteers will take you for an atmospheric nocturnal walk.
Le Jardin de Liliane (29mins/31.3km)
A beautiful French garden located in the village of St-Laurent-sur-Gorre near Limoges. This 8000m garden has been developed over the last 30 years and if you speak French then you can discuss the plants with Liliane herself.
St Yrieix la Perche (33mins/38km) (See top 12)
Chateau de Nexon (36mins/34.9km)
This chateau is surrounded by 38.5 hectares of ground around which you can take a 3-mile walk and take in the lovely forest scenery. This includes a waterfall and 'Jardin des Sens'. In the chateau, you can visit the stables and a small chapel.
Rochechouart (38mins/36.3km)
A pretty walled town with a large 13th-century Chateau which now houses a modern art museum. The church St-Sauveur is famous for its octagonal-shaped spire. The town itself was apparently hit by a meteor some 214 million years ago, although little evidence remains today, except for a museum dedicated to this phenomenon. A visit to the cemetery will reveal the tomb of Leonce Chabernaud, a wholesale wine merchant who died in 1953. He designed his own tomb in the shape of a giant wine barrel that shocked both the clergy and the press at the time.
Saint Junien (46 mins/47.8km)
A relaxing town situated on the banks of the rivers Vienne and Glane, each spanned by a lovely 13th-century bridge. The church is one of the largest and oldest in the region and the Saint Amand Abbey is open in the summer. Famed for glove making a guided tour from the tourist information centre picks up a glove factory visit and the other sites to see. Those with a sweet tooth make like to try Le Gateau Arena (Almond cake), a chocolate-coated prune, soaked in liqueur and filled with nougat called Le Cyrano and Le Bourgou a cake filled with chestnuts and honey. Just outside the village lies Site Corot, a beautiful mill beside a river, and the hut where the 19th-century artist painted.
Limoges (49mins/52.5km) (See top 12)
Oradour sur Glane (49mins/57.3km) (See top 12)
Chateau de Chalucet - St-Jean Ligoure (52 mins/52km)
This fortress is one of the most beautiful ruins in France. Take a guided tour during July and August otherwise, there is a trail in the surrounding forest that gives you information about the area. Or you can discover Chalucet through a group riddle on your smartphone.
Chateau de Coussac Bonneval (53 mins/45.8km)
This beautiful castle surrounded by lavender, oak and chestnut trees has been the home of the Bonneval family for over 1000 years. Take a timed afternoon guided tour and discover the chateau's fascinating history. In the grounds is a visually very interesting chapel.
14. Mortmart (1hr 2mins/57km) is the only beautiful village in the Haute Vienne which certainly lives up to its name. Enjoy the remains of the dukes of Mortemart's château, fabulous granite houses, two former convents and the delightful 16th-century wooden covered market hall.
15. Saint Leonard de Noblat (1 hr 12mins /68.9km)
A charming medieval town and one of the oldest in Nouvelle Aquitaine. The beautiful church is well worth a visit and houses a lock of St Leonard's hair which you can touch if you want to get married that year! Find here a museum dedicated to the 18th-century chemist, Guy-Lussac who developed a gas chemistry law. Look out for shops selling marzipan for which it is famous.
16. Moulin de Got (1hr 13mins/69km)
This lovely 16th-century paper mill (situated just outside St Leonard de Noblat) is a living museum and exhibition centre. Located by a river with picnic facilities.
17. Eymoutiers (1 hr 25mins/87km)
A delightful medieval town on the banks of the river Vienne renowned as the birthplace of the 20th-century artist Paul Rebeyrolle, who has a museum dedicated to him here. There is a mineral museum to visit and it's possible to take a steam train through the local countryside.
18. Lac de Vassiviere (1 hr 57mins/111km) One of France's largest man-made lakes with an island in the centre dominated by a chateau. The lake is both a nature reserve but also very important for water sports. There is a free water taxi to get you about.
To our East – The Correze part of the Limousin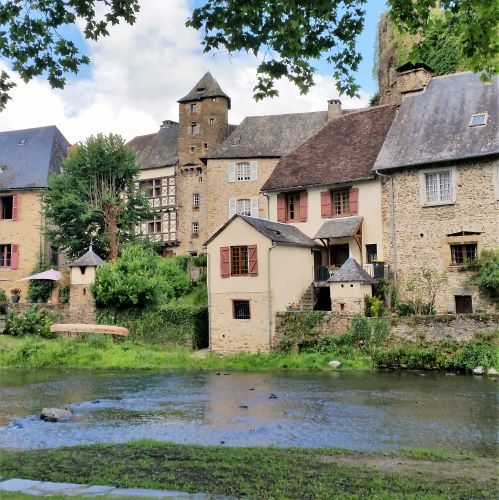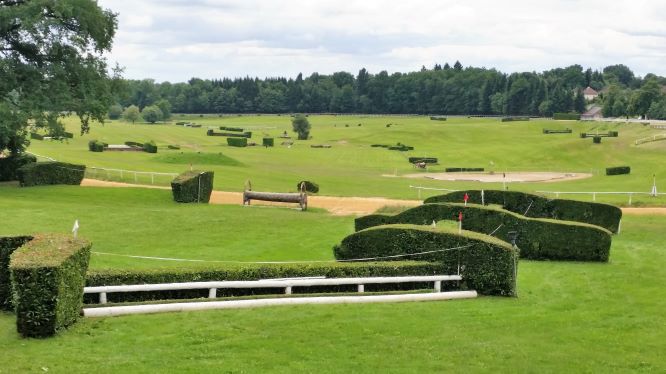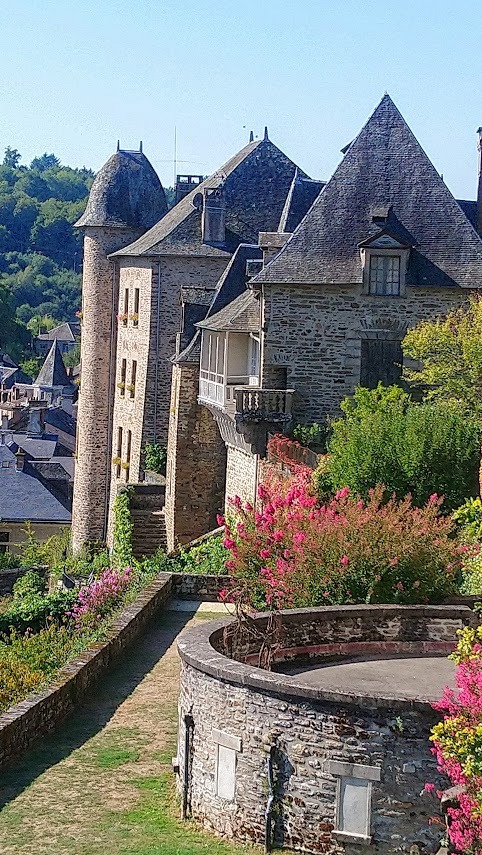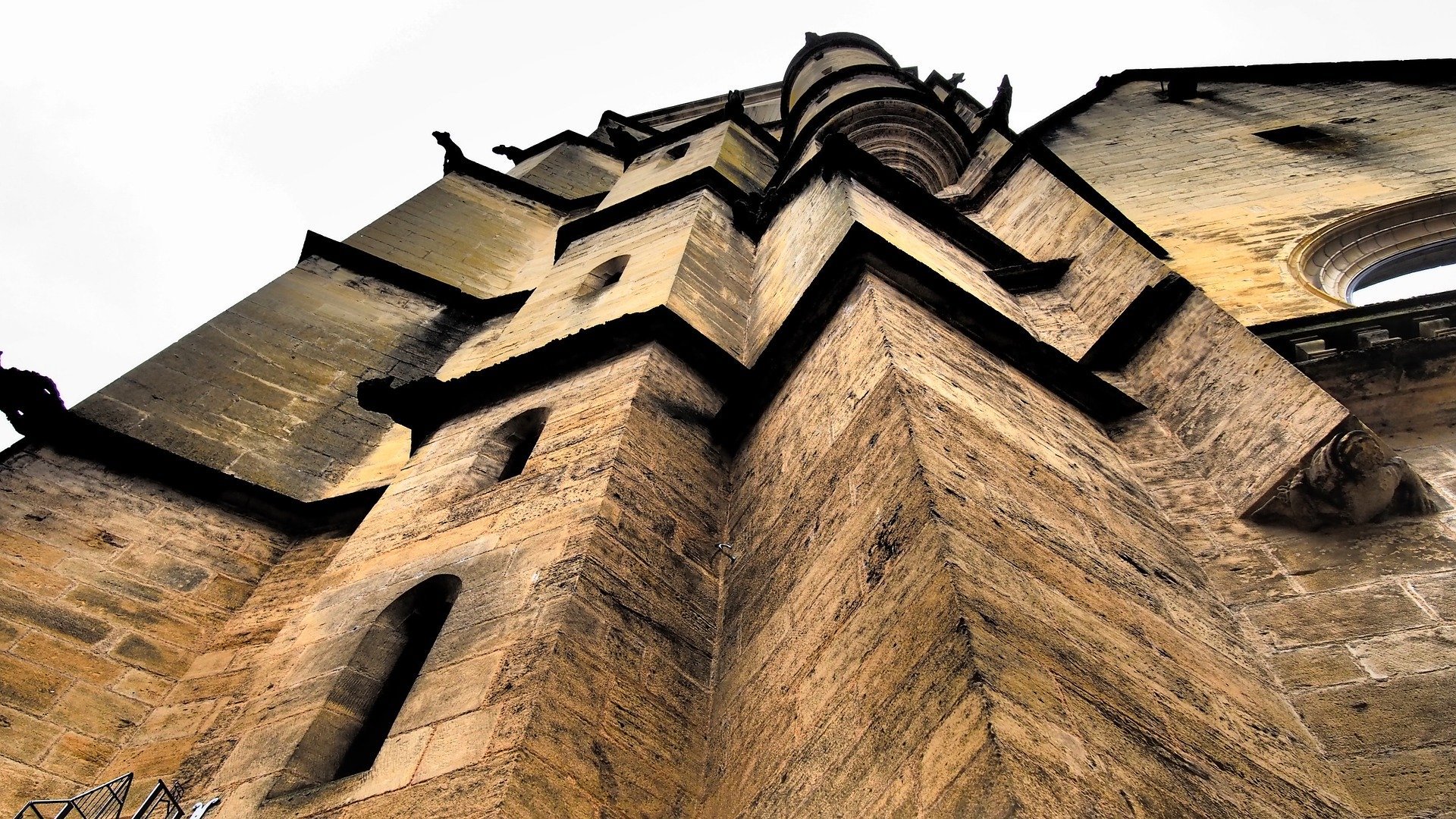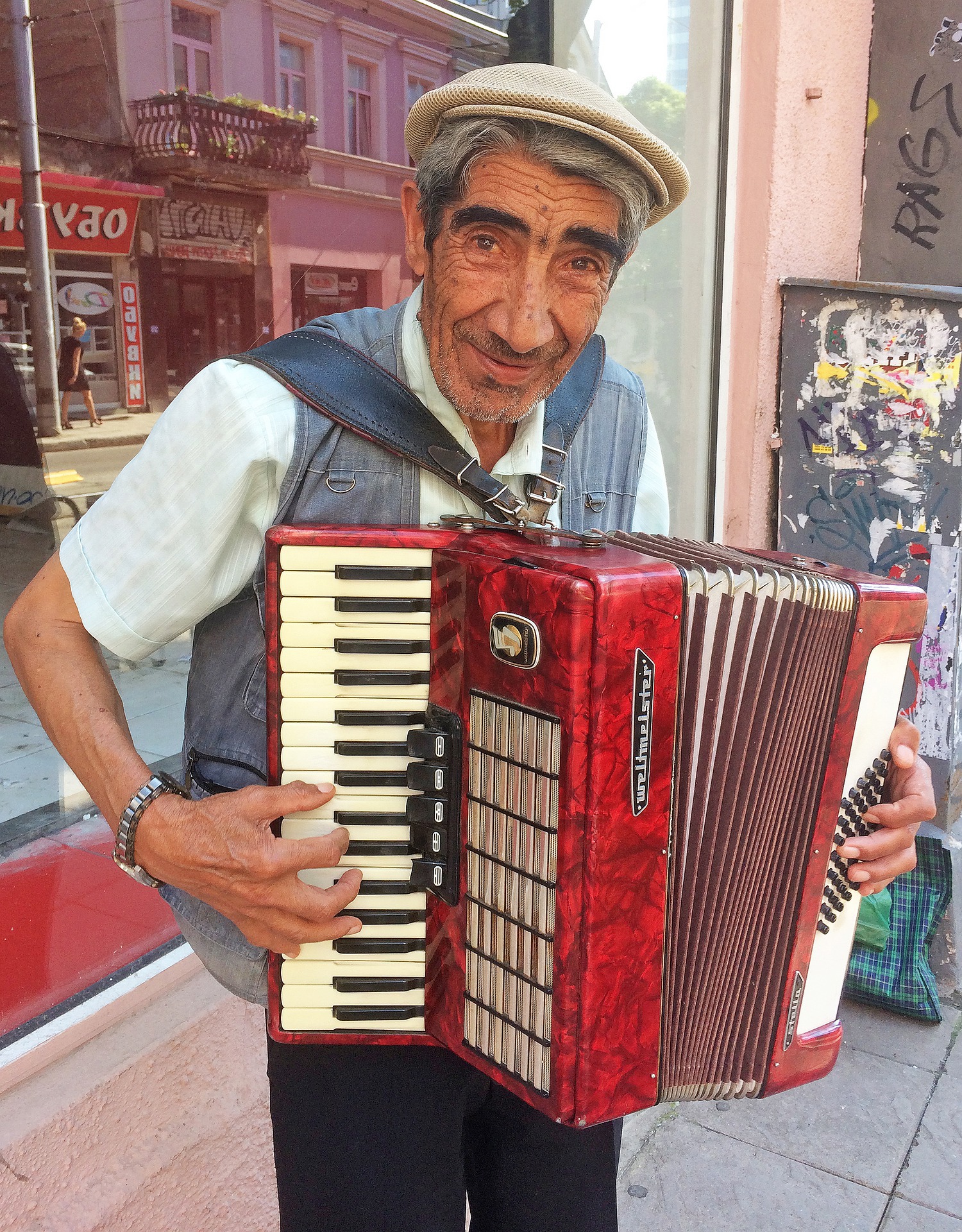 Accordion player in Tulle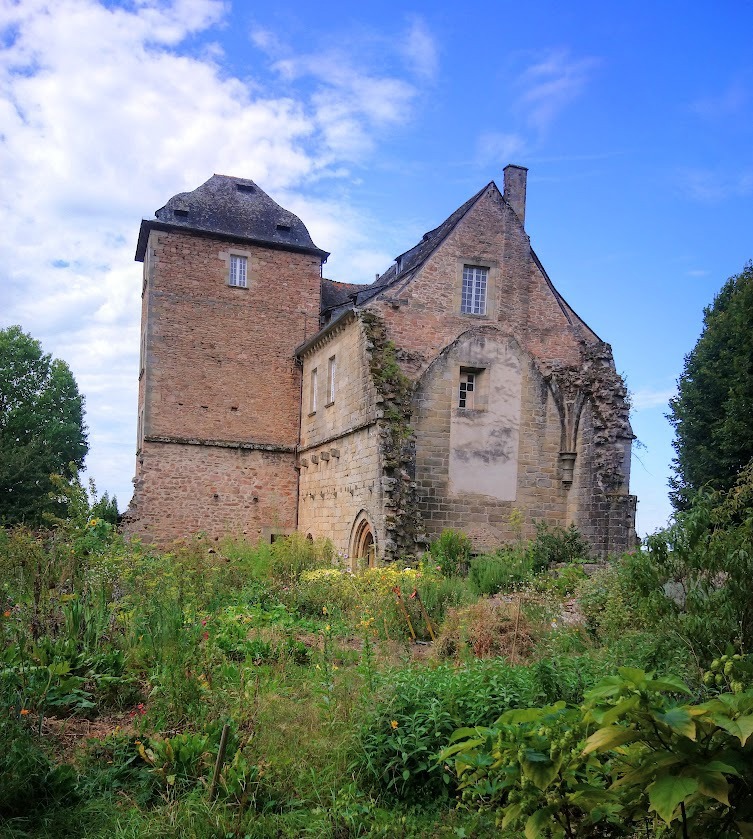 Aubaine Abbey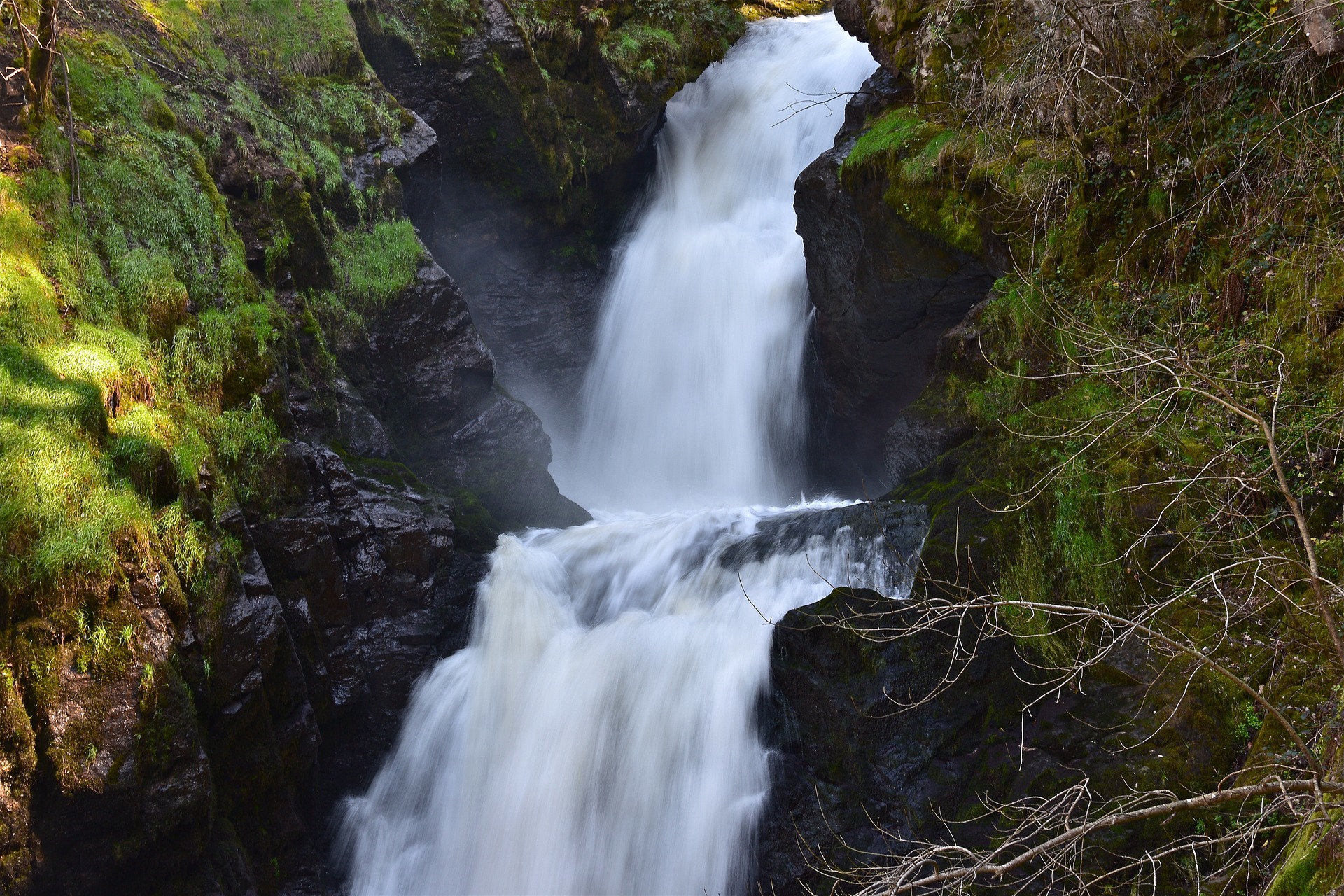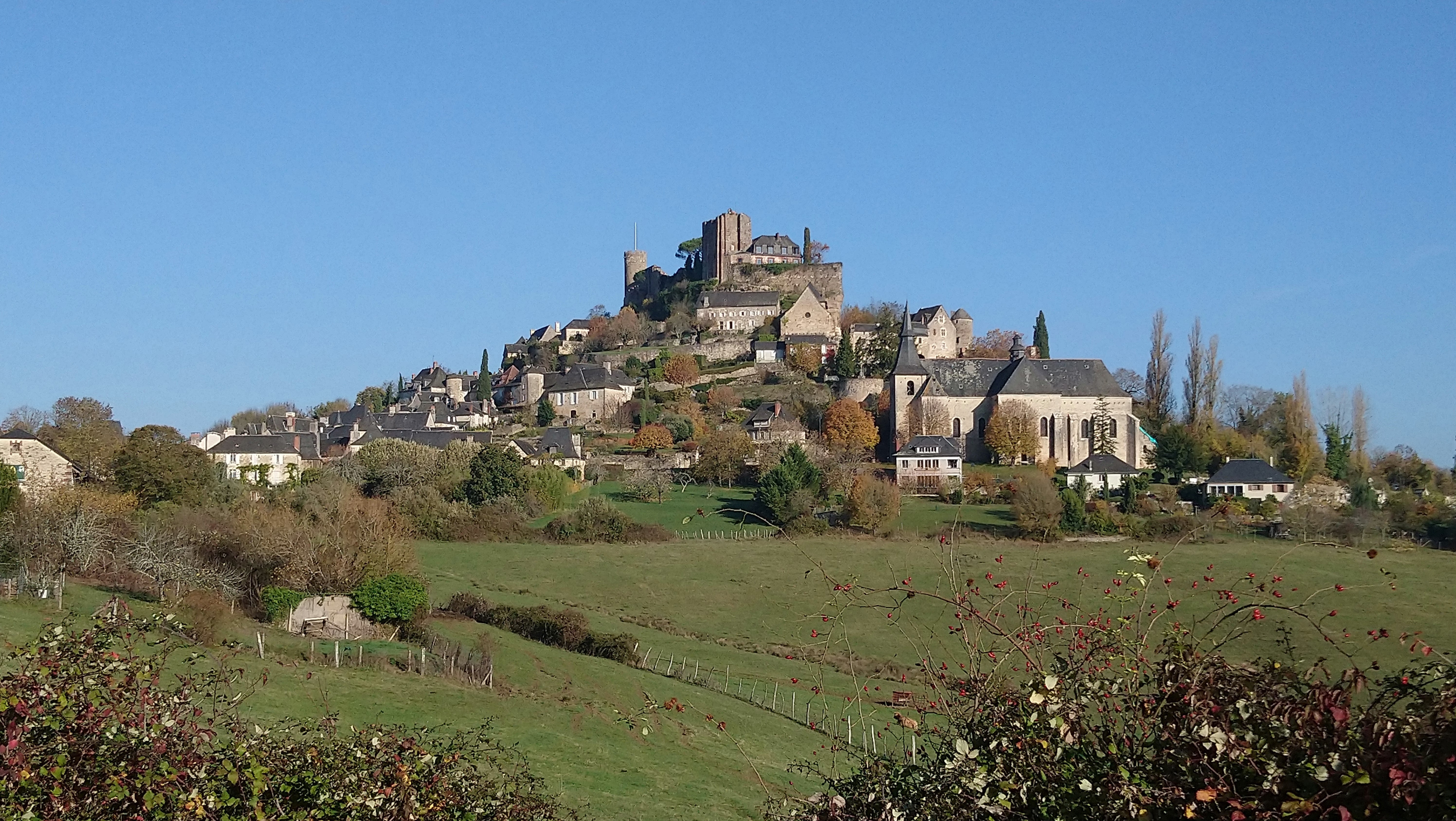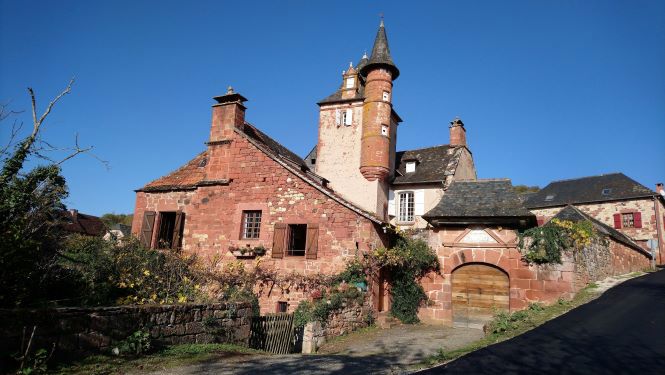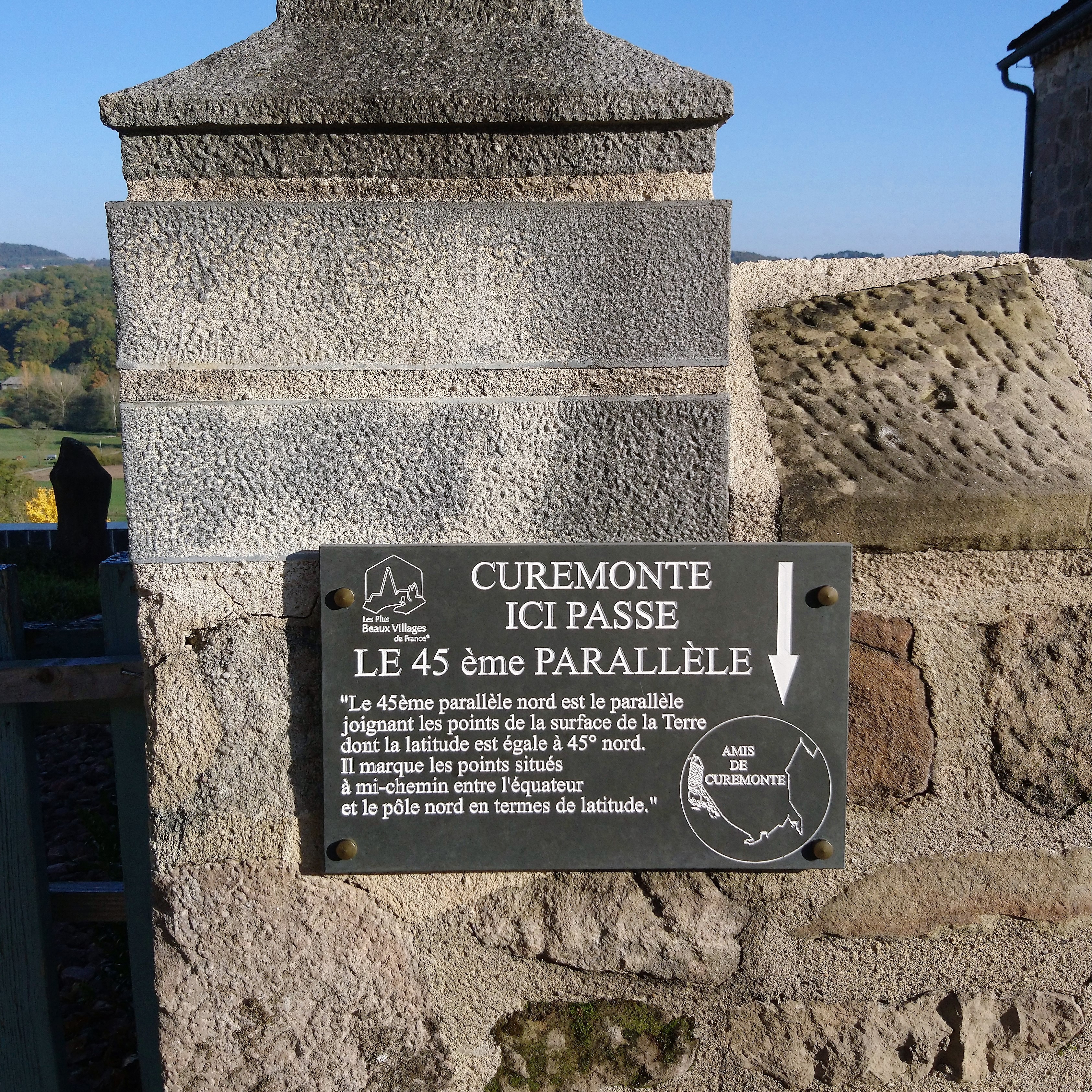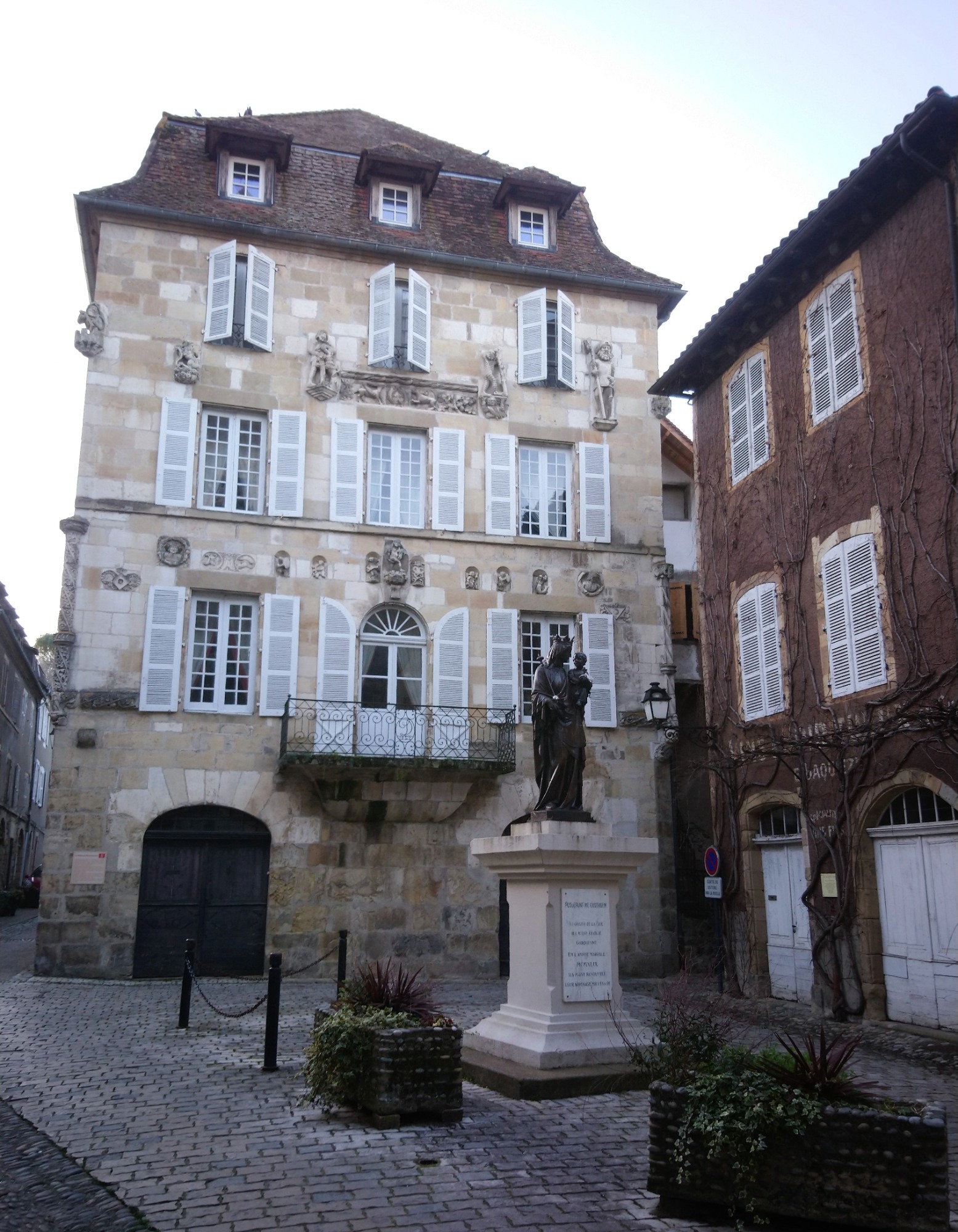 Beaulieu-sur-Dordogne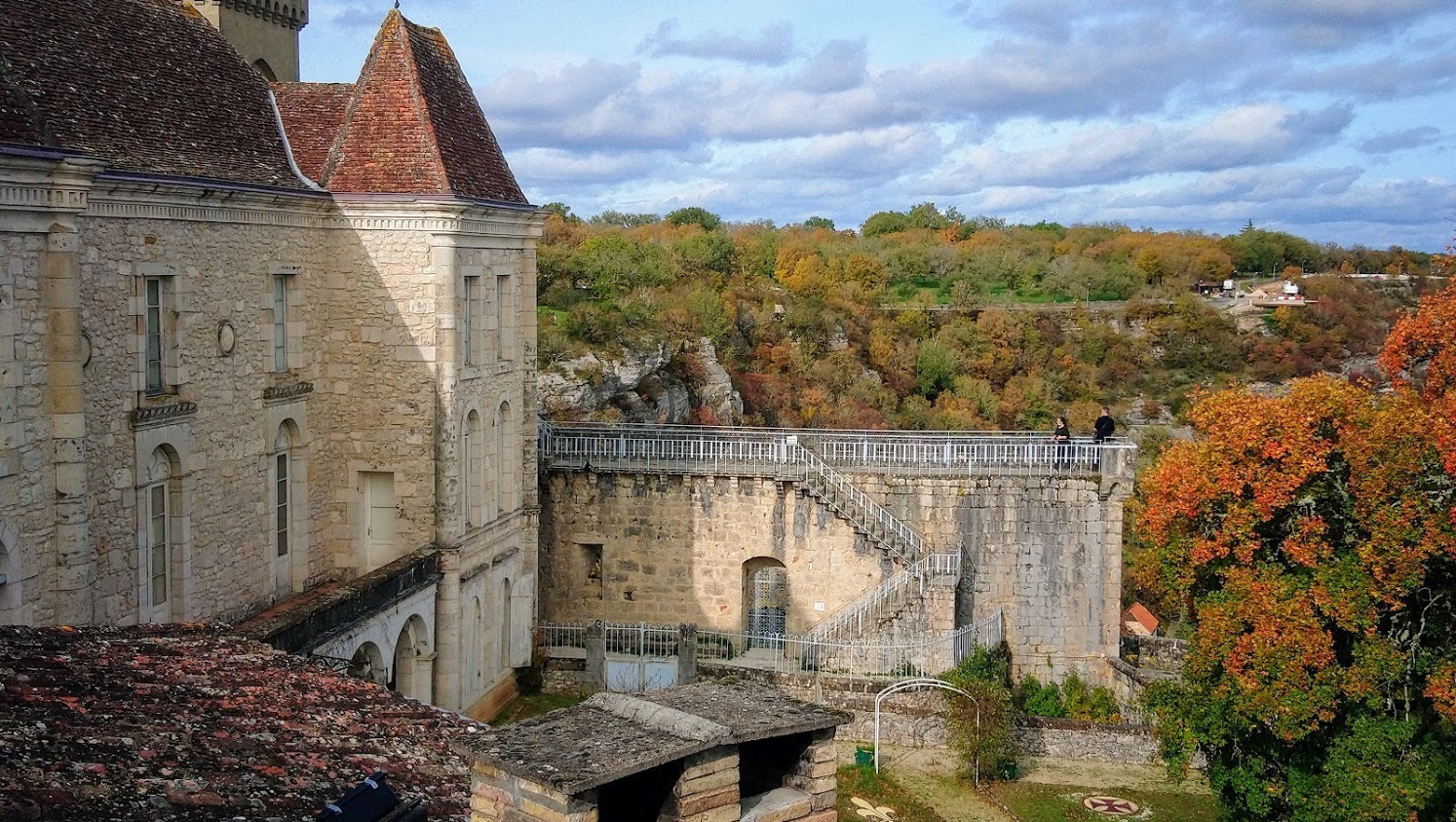 The Correze named after the river Corrèze which runs through it lies in the south of the Limousin. Its capital is Tulle, and its most populated town is Brive-la-Gaillarde. This very pretty department has plenty to offer from the Millevache County Park to its main towns and to being home to 5 of France's most beautiful villages too.
Places to visit;
Segur-le-chateau (51mins/45km)
One of France's beautiful villages, Segur is built on a meander of the Auvézère River and was very important in the middle ages. Ruins of the 12th-century castle can still be seen in the town, as well as half-timbered houses and remains of a Court of Appeal. A lovely place to stop for lunch by the river and take in the views.
Pompadour (1hr 1min/59km)(See top 12)
Saint Robert (1hr 15mins/66km)
This charming medieval village is built on a ridge on the border between the Corrèze and the Dordogne and has a 12th-century Romanesque church
Uzerche (1hr 15mins/76 km)
This beautiful town some call the jewel in the Correze crown goes back to pre-Roman times when the area was inhabited by the Gauls. In the 10th century, it was the home to a powerful monastery and important Benedictine Abbey. Its many towers, vaulted passageways and ancient houses with adorned carved doors make it quite unique. A visit to see the magnificent bell tower is well worthwhile.
Aubazine (1hr 23mins/124km)
This small town is built on a hill overlooking the Gorge du Coiroux and grew up around a monastery founded by St Etienne in 1135. This large Cistercian abbey is renowned as the best preserved in the region and is where the fashion designer Chanel spent her teenage years. You can also visit Le Coyroux convent nearby.
Les Jardins de Colette (1hr 27mins/83km)
The Jardins de Colette is named after the famous novelist, Colette and is located nearby to where she lived in the Castel-Novel castle. This is a large garden covering 5 hectares in incorporating 6 designs representing regions in France where she lived over her lifetime. There is also a huge labyrinth in the shape of a butterfly.
Donzenac (1hr 27mins/103km)
Originally founded by the Romans, this charming medieval village is perched on a rock overlooking the River Maumont. Its circular narrow streets full of ancient buildings all lead to the Grand Place. The bell tower is listed as a historical monument. Just outside the village, discover the 'Pans of Travasac' an old slate mine located in a subterranean gallery and small museum.
Brive (1hr 38mins/92km)
A pleasant market town with an excellent indoor market in the George Brassens Market Hall on Tuesdays/Thursdays and Saturday mornings. It holds 4 duck and goose markets each year. Visit in the centre the Bellet Distillery and try Pastis vert, gentian, walnut and chestnut liqueurs. Also here is the Museum Labenche and learn about the history of local French life. Brive was known as the regional capital of the resistance during WW11 and you can find out more at the Edmond Michelet Museum just off centre. Book lovers should not miss the annual book fair held on the first weekend in November. Finally, Brive has a great atmosphere at night when a number of landmarks are light up.
Tulle (1 hr 39mins/110km)
Known as the town on seven hills, this interesting old town is the administrative centre of the Correze. It has a particularly nice medieval quarter featuring tall houses with wooden balconies. Don't miss the superb 16th Maison Loyac near the Cathedral. Tulle is famous for producing Tulle, a fine netting made from a mixture of fibres including silk, nylon or rayon. It is often starched and used in wedding veils, gowns and ballet costumes. Tulle was renowned in the 18th century for silk and lace production. You can visit 'Point de Tulle' a needle lace workshop on the side of the cathedral to find out more. Tulle is also world-famous for accordion production and you can see how they are made in the 'Maugein' factory and enjoy an excellent collection of old accordions in the Cloisters museum. Enthusiasts visit the annual accordion festival called 'Nuits de Nacre'. This is a huge 4-day event held in September with over 90 concerts held across the town. History buffs may like to visit the weapon museum.
10. Auzabine Abbey (1 hr 39 mins/113km)
This pretty 12th-century abbey boasts a superb octagonal tower, the tomb of Saint Stephen and a liturgical 12th-century cabinet which s the oldest in France. You can also see 18th-century carved stalls, Cistercian grisaille stained glass and a polychrome Pieta from the 15th century. In the abbeys loft was an orphanage for girls, and is where Chanel spent time from 12-18 years of age. You can see the abbeys influence in her designs.
11. Tregnac sur Vezere (1hr 41mins/97.5km)
This very pretty medieval place is another of France's beautiful villages, located by the banks of the Vezere River. There are many old houses to discover in its narrow streets surrounding the 11th-century church. A walk past a medieval tower and through an old gateway takes you to the river. This is spanned by a lovely 14th-century bridge, the best spot for a photo! Nearby is Lac du Bariousses renowned for whitewater sports and hosts the World Canoeing Championships. You can walk around the lac and the tourist info office in Tregnac has a guide.
12. Gimel les Cascades (1 hr 41mins/125km)
The name of the town and three unforgettable waterfalls below standing between 38-60 metres high. A 400m footpath from the village takes you to the falls enabling you to see the force at close quarters. Allow 90 minutes to enjoy the walk and take photos. Before leaving the village pop in the 'Église St Pardoux' to see the priceless enamel shrine of St Etienne.
13. Turenne (1hr 46mkins/106km)
Located high on top of a cliff dominated by a ruined castle, this is one of France's most beautiful villages. Pick up a heritage walk leaflet from the tourist information and follow 10 points of interest taking just over an hour and a half in total. One of the highlights is the 'Hotel de Cosnac' an old hunting lodge.
14. Collongers-La-Rouge (1hr 50mins/112km)
Another of France's most beautiful villages, this fairy-tale perfect village with no telegraph pols or electric pylons is a dream for photographers. It's interesting because most of the buildings are built of red sandstone due to the iron ore content. Explore the castles, houses, turrets, old market hall and mermaid's house. During the peak season, this village with its artisan boutiques can attract between 6000 to 7000 visitors a day!
15. Correze (1hr 52mins/145km)
This charming small town with a medieval heart takes its name from the River Correze River. The old fortified town has retained its slate roofs and ramparts.
16. Carennac (2hr 2mins/146km)
Located in the Lot department on route to Rocamadour, Carennac is listed as one of France's most beautiful villages. Don't miss the church with its beautifully carved door and cloisters to the castle with a painted ceiling and exhibitions on local history. The Hermitage canal runs alongside the village lined with lovely old houses. Visit on Tuesdays for the market after lunch, which is quite unusual as markets in the area are normally am only.
17. Curemonte (2hr 4mins/138km)
As one of France's most beautiful villages, it is dominated by three feudal castles. Two of which were owned by the daughter of writer Colette who also lived in Curemonte during the Second World War. Narrow streets, honey-coloured houses with carved doorways and turrets and three old churches make this a very picturesque place to stop awhile and enjoy.
18. Argentat sur Dordogne (2hrs 4mins/140km)
Situated on the banks of the Dordogne, Argentat sur Dordogne was for centuries a major trading port. Traditional flat-bottomed Gabare boats once left from Quai Lestourgie loaded with local products such as wood, leather, and oil. Today the riverside quays, still paved with traditional stone, are lined with old fisherman's houses bearing stone-covered towers and pepperpot roofs. Don't miss St Claire Street and the Hotel de Turrene.
19. Ussel (2 hrs 4mins/171km)
The old town is home to Renaissance-style houses, a local museum and churches housing some fine examples of religious art. Visit the Pelards Fountain on Place Joffre and the Roman eagle on Place Voltaire. The 18th-century Bonnot de Bay mansion houses tools from yesteryear and liturgical books and tapestries. See the turreted house called Imprimerie which is dedicated to lithographic and typographic printing. The 15th-century chapel of the Penitents had fine examples of religious art and a superb Baroque centrepiece.
Nearby 'Le Jardin de la Ganille' is a beautiful garden with an altitude of 650m with acid soil and over 800 plants. Visit on Saturdays only from 9 am to 7 pm from June to September by appointment.
20. Beaulieu-sur-Dordogne (2hr 10mins/144km)
This pretty medieval village on the banks of the river Dordogne is nicknamed the 'Limousin Riviera' because of its mild climate. Perfect for its famous strawberry culture, which is celebrated the first weekend in May with a Strawberry Festival. In the abbey church see the tympanum depicting the Last Supper, one of the finest in France. Browse the boutiques and antique shops around the main square and enjoy the fine architecture of the medieval period. Take a walk down to the river where there is a lovely church, and cross the river for the best photographic views. Enjoy a trip down the river on a riverboat (Gabare) or simply just stroll its scenic banks looking for the best spot perfect for a picnic.
Don't miss nearby:
Rocamadour (2hr 16mins/166km)
This world heritage site is one of France's most important tourist destinations with over 1 million annual visitors. it this lovely village every year not only because it's an important pilgrim destination on the road to 'Santiago de Compostella' but also because of its staggering location up a craggy hillside. The village lined with medieval houses is picture perfect and is especially beautiful as the sunsets. See the 'grand escalier' which has 216 steps leading to a small chapel where a miracle took place in 1148 after which pilgrims started to arrive. Their donations enabled the erection of other religious buildings including the chapel Notre Dame which houses the Black Madonna.
If you visit here you must also go to Gouffre de Padirac, 11km away. This is France's first underground natural cave, which can be enjoyed by boat. A stunning experience.
To our West – The Charente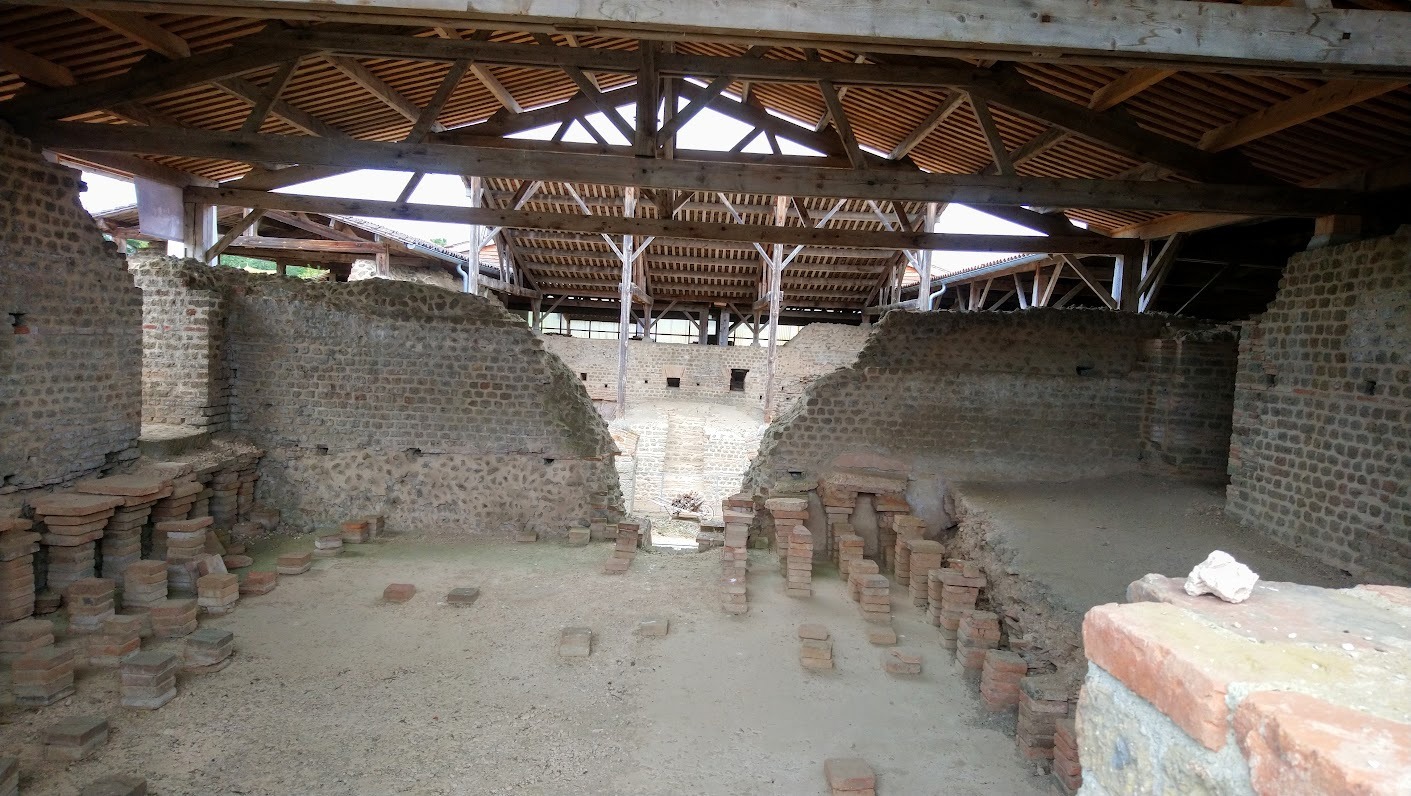 Cassinomagus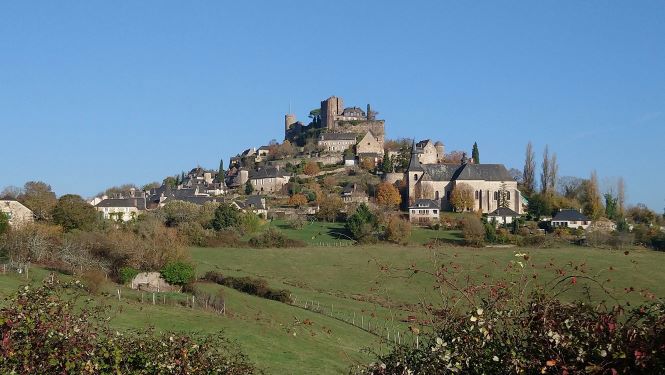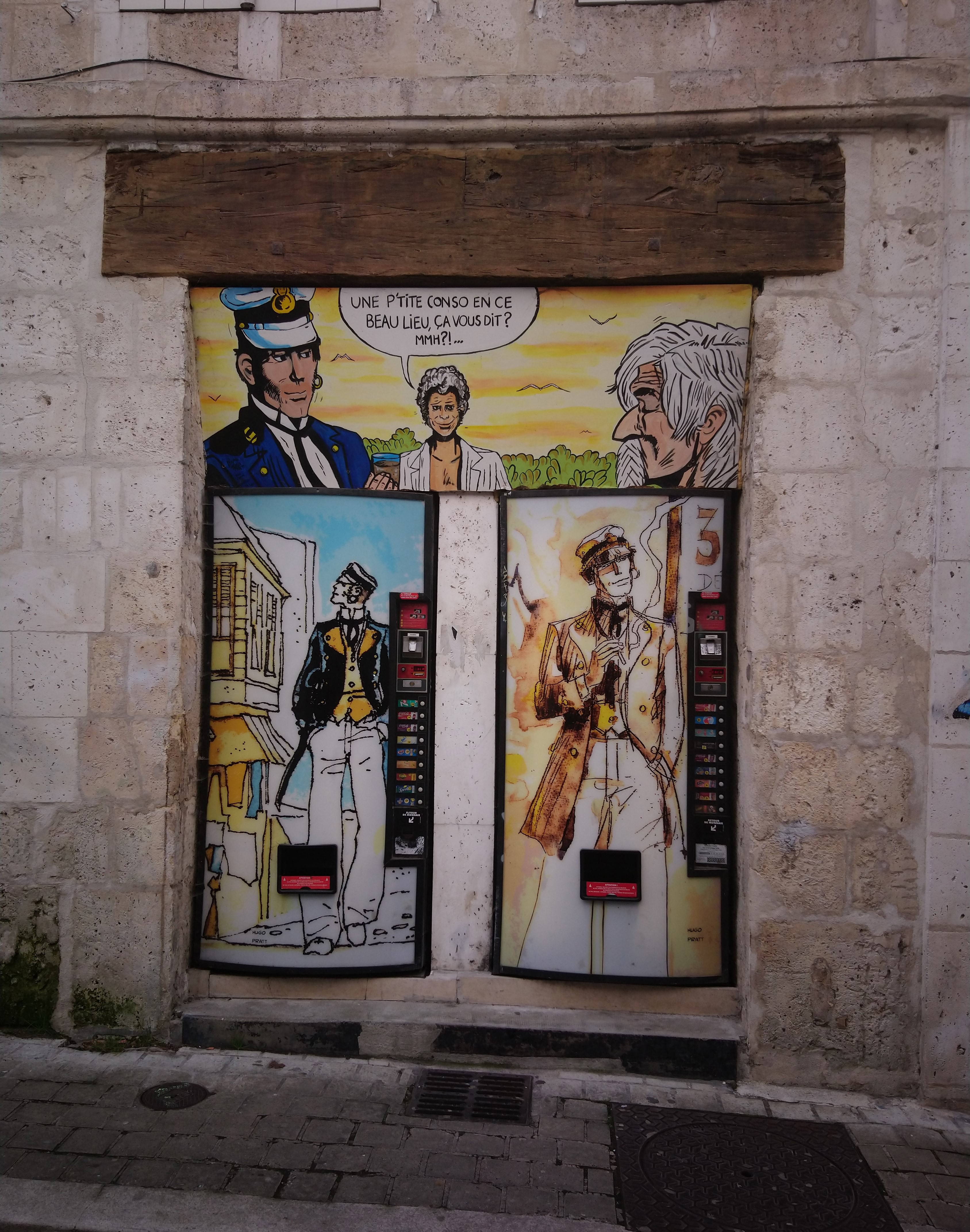 The Charente in the department of Poitou-Charente is named after the river that runs through its two main towns of Angouleme and Cognac.
Places to visit;
1. Cassinomagus (41mins/42km)
The most monumental Gallo-Roman baths in Northern Europe outside of Rome were first excavated in 1958. Built at the beginning of the 2nd century AD, the baths covered 12,500m2 and included a 30m high temple. You can walk through the many types of bathing rooms and wall pictorials show a reconstruction of how it would have looked in its prime. This is an excellent site and well worth a visit.
2. Villebois-Lavalette (1 hr 2mins/66km)
Is dominated by a large hilltop 12th-century Chateau de Villebois. The Saturday market is worth a visit alongside the old houses and buildings that make up this very scenic village.
3. Confolens (1hr 4mins/69km)
This medieval town with over 60 half-timbered houses and its 13th-century bridge make a. Famous for an annual International Folklore Festival held in August, it's well worth a place to stop off at.
4. Angouleme (1hr 17mins/75km)
Is surrounded by large boulevards which stand above the original ramparts that protected the town. Known for both art and history there is much to see in the old town including a very ornate cathedral. Museums include Fine Arts, Archaeology, Paper and Comic books. It has two famous annual events; an International Comics Festival in January and a Classic car race, which first started in 1939.
5. Aubeterre sur Dronne (1hr 21mins/78km)
Located on a steep hill, this is the only most beautiful village in the Charente. It has welcomed tourists for over 1000 years as was an important stop on the pilgrimage route to Compostella in the Middle Ages. Of particular interest is the unusual Troglodyte (Underground) church of St Jean. The lovely Romanesque church of St Jacques church with its stunning facade and the many delightful small streets brimming with eateries, boutiques and galleries make this village a delight to visit.
6. Cognac (1hr 48mins/120km)
Not only renowned for its brandy this lovely city also has other things to offer besides the obvious. It has a number of historic buildings including the Valois castle and the Chateau of Cognac. The cognac museum is dedicated to local art and history, whereas the Arts of Cognac Museum is dedicated to the story of brandy. Several of the major Cognac brands offer visits and tastings.
So, in conclusion, the above list is not exhaustive but includes suggestions for some of the most popular places to see.
Making the most from sightseeing
Many places of interest are near each other and it makes sense to combine a selection to maximise a day. However, a lot of sites close for lunch, generally between 12 noon to 2.00pm or 12.30pm to 2.30pm. Lunch is normally a three-course sit-down affair so if you want a snack or sandwich you will need to buy from a supermarket which in small towns and villages also tend to close for lunch too. To make life simple why not take a packed lunch out with you, we provide your gite with a cool box for your convenience.
Not all sites are open 52 weeks a year or 7 days a week so check online first before you make a journey to avoid disappointment. Some only open in the afternoon and some by guided tour only. Many tours are done only in French but often supply information in English that you can carry around with you. It's always worth checking if tours in English are available and book accordingly.
Please ask us if you would like more information or advice on any aspect of what to do and see on your holiday. To assist, you will find in the gite a few itinerary suggestions for day trips.
Things to See & Do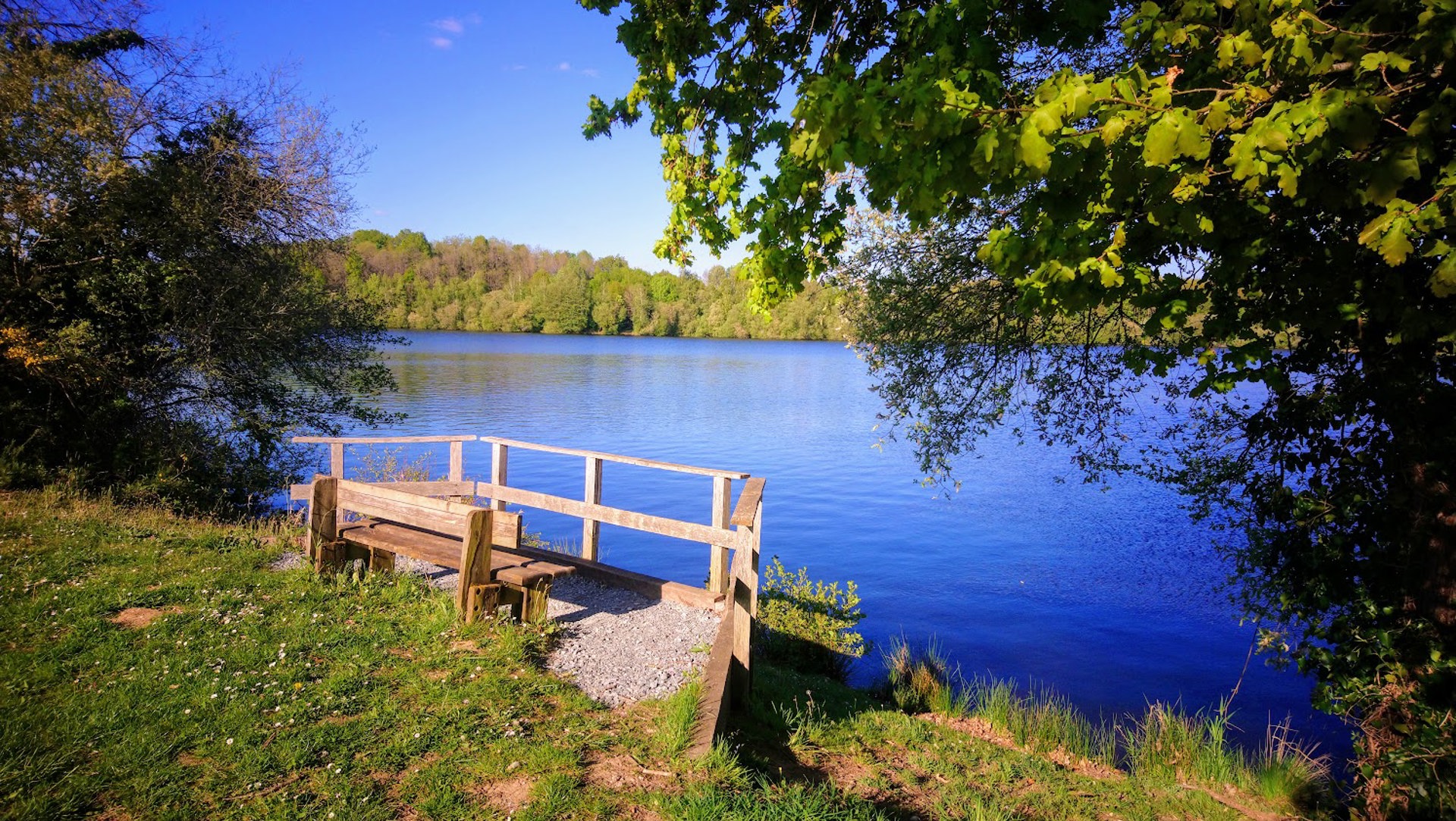 The charming village of Mialet is located in the Dordogne, South West France in the Aquitaine region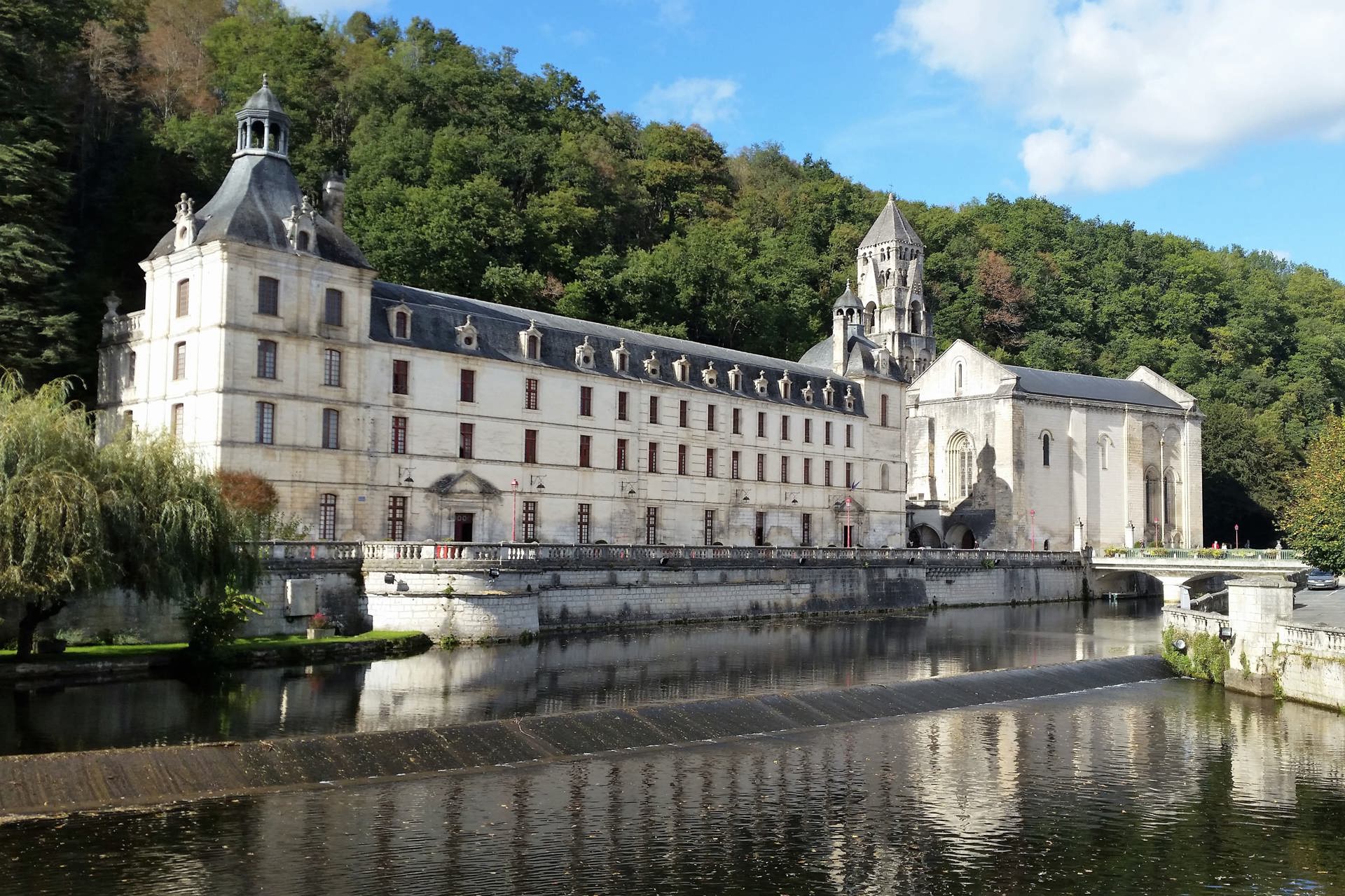 There are so many places to visit and things to do in our area. To give you a little taster we have created a list of our top 12 favourites.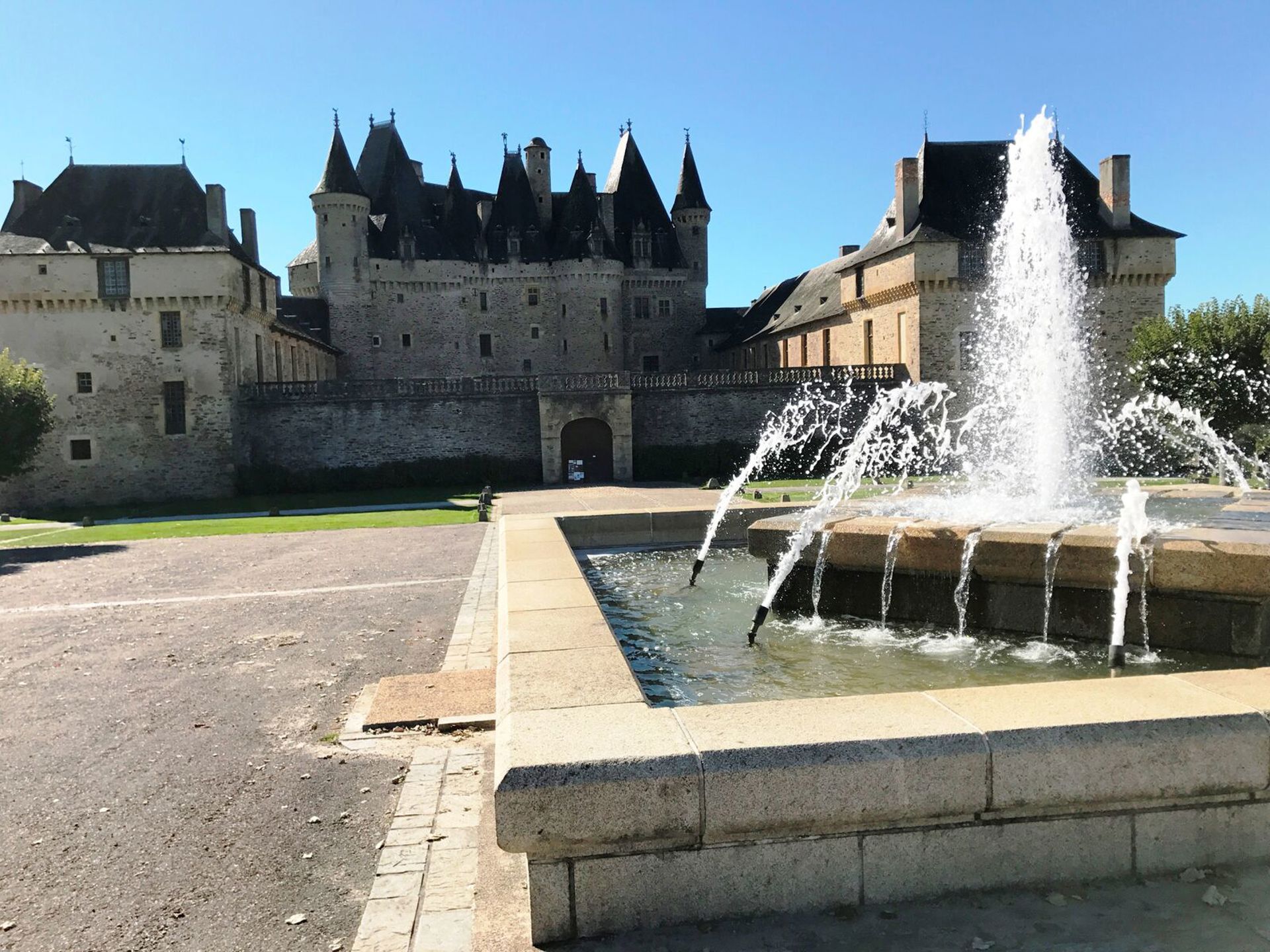 There are countless places to visit within a 2-hour radius of Miallet. Here are the main sites including drive time and distance.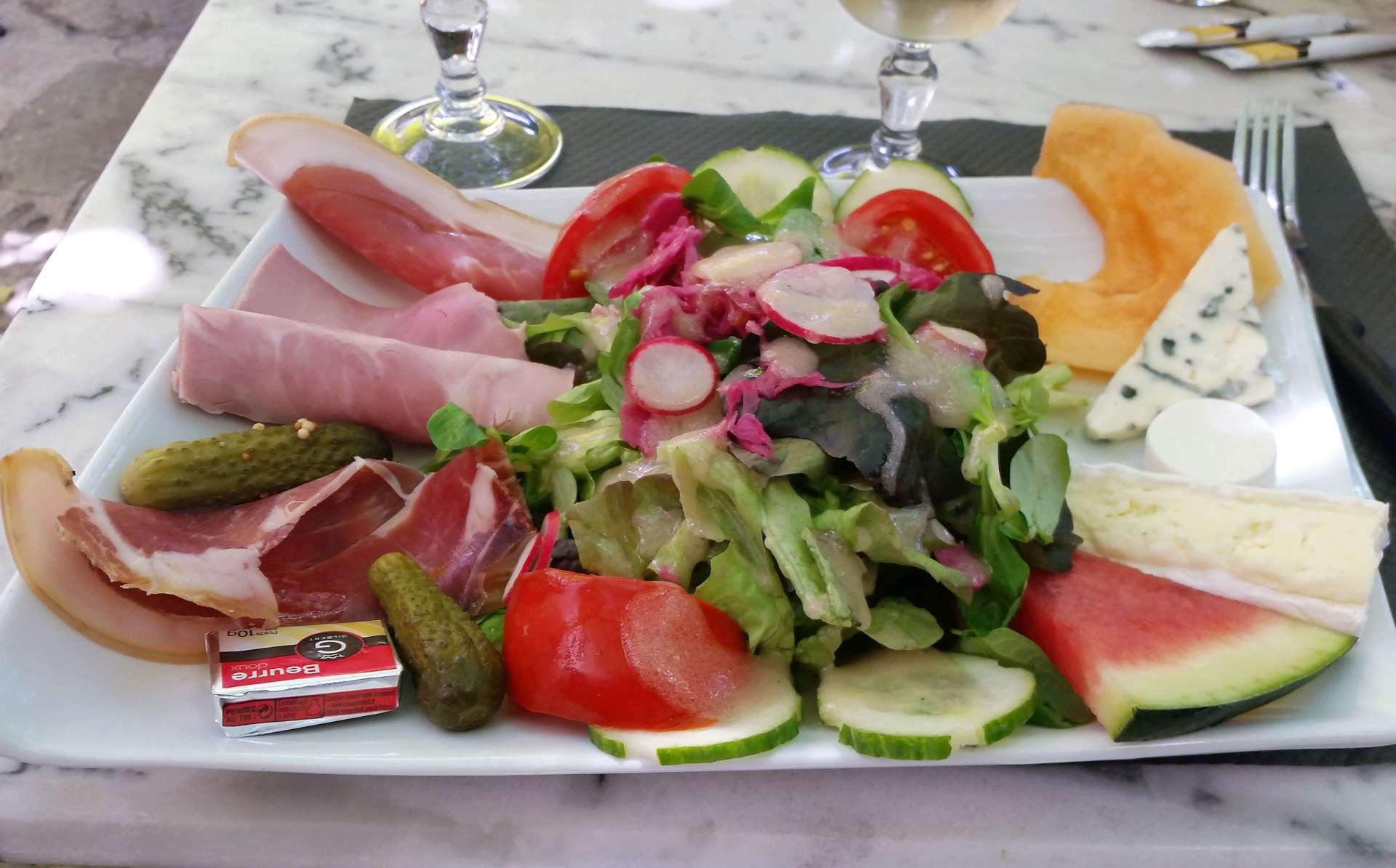 Eating out is a fabulous experience in this part of France and there is a huge variety of establishments to choose from.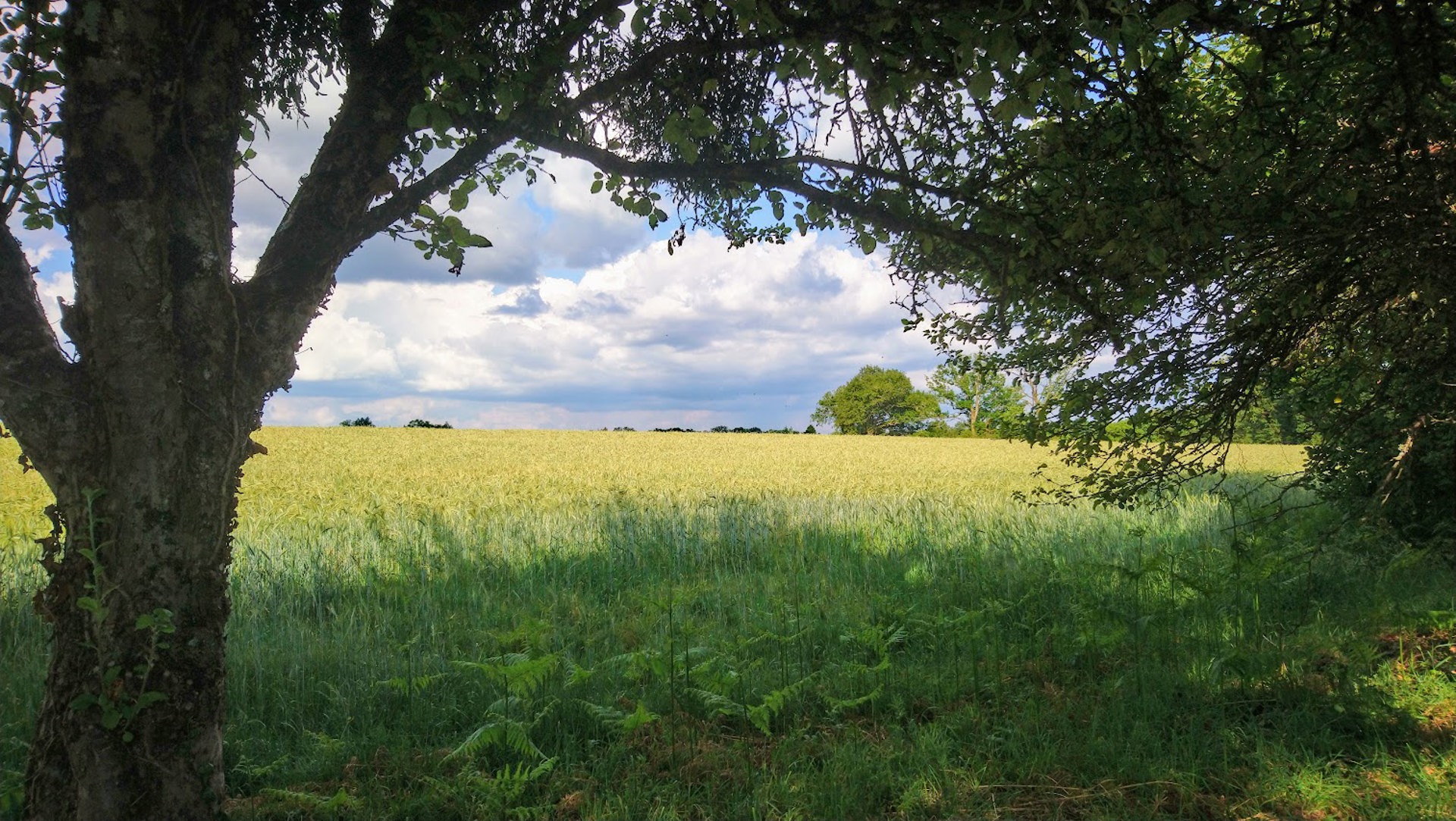 The North Dordogne or Perigord Vert is a perfect location for those with a great affinity to the great outdoors