Understanding the Perigord Black Truffle
Well seasoned gourmet cooks and the French, in particular, have in their arsenal of special ingredients a remarkable source of pungent flavour that is both savoured and revered at the same time. We are talking about basically an ugly wizened ball that grows in the ground yet is worth its weight in gold, it is, of course, the incredible truffle! But what is it exactly, where does it come from and what do you do with it, well read on... 
What is a truffle?
Truffles (the mushroom variety!!) are actually fungi that are found just under the soil near-certain tree roots such as the Oak. They are highly prized as speciality food, and the French gourmet Jean Anthelme Brillat-Savarin called them "the diamond of the kitchen".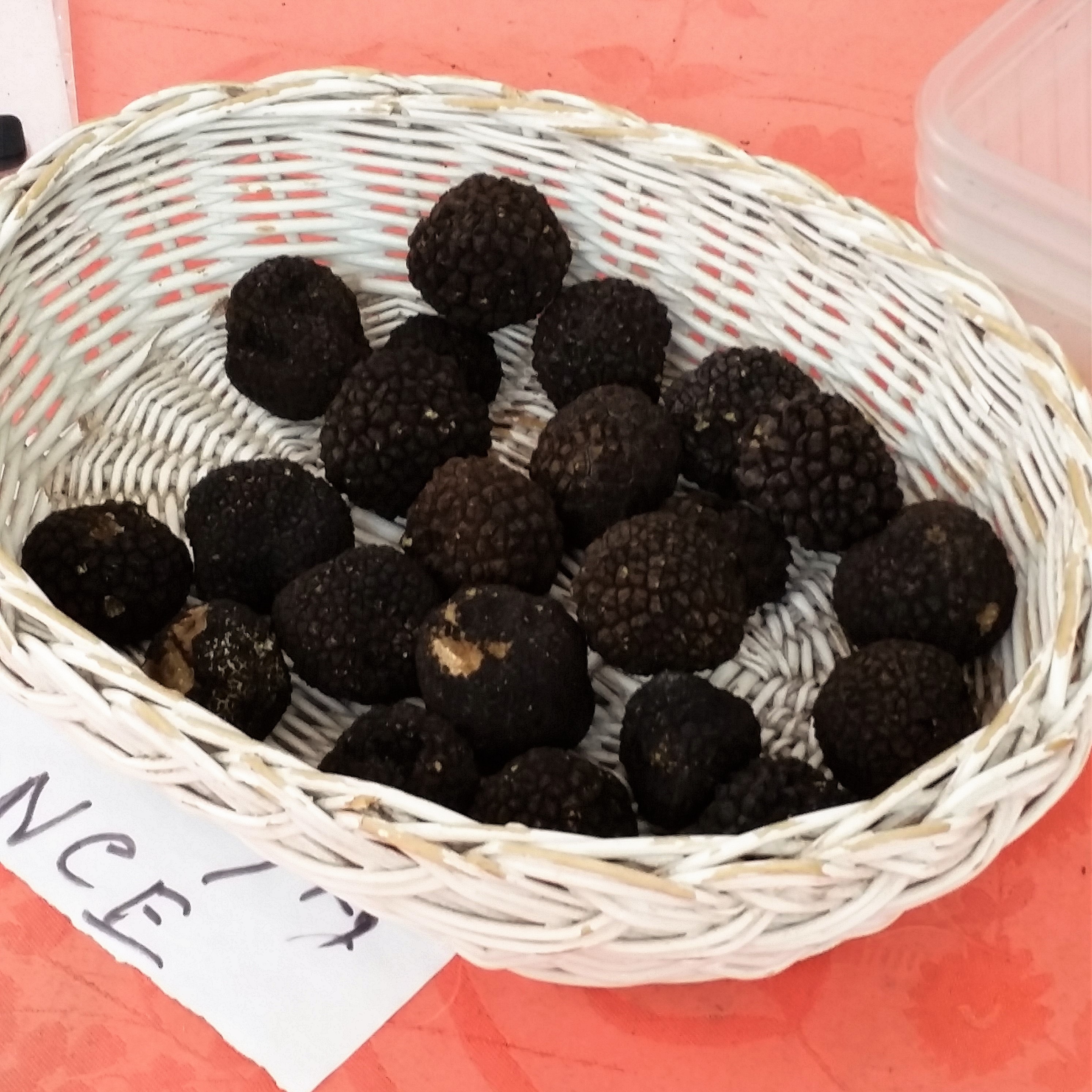 From where do truffles originate?
The word truffle comes from the Latin term tuber, meaning swelling or lump which morphed into tufer to become truffle in English and truffe in French. The origin is unknown, but apparently, they were enjoyed during the Roman period. They then fell out of favour until the 17th century when the French, in particular, started to use them as an alternative to heavy spices due to their pungent aroma.
Why are truffles rare today?
It wasn't however until the mid-19th century following an aphid epidemic which destroyed the vineyards across France, that the truffle was cultivated in earnest as an alternative crop.  However, it took the two world wars of the 20th century to depress production which in turn increased its value. This rarity still applies to today with France producing 80% of world production.  You might then think that it's a lucrative industry to perhaps be involved in, but they are not easy to grow and take between 7 to 10 years to develop. Further, an investment of up to 10 000 euros per hectare including irrigation and wild boar protection is also required. So a business maybe not for the faint pocketed!
How expensive are truffles?
Truffles can grow all year depending on the roots of the tree type from which they grow. The most expensive is the Italian white truffle (one of the top 10 most expensive food items in the world!) and is worth nearly three times as much as the French black version. Truffles are sold by the kilo and prices vary per year depending on availability but can be as much as at wholesale 1000 euros a kilo or more. A perfect black truffle tends to be roughly 100gm and is about 7cm across in diameter and retails in 2018 at around 175 euros. While on holiday in France you can barter wholesale and buy something a lot smaller. 50gm, for instance, is perfect to make the main dish.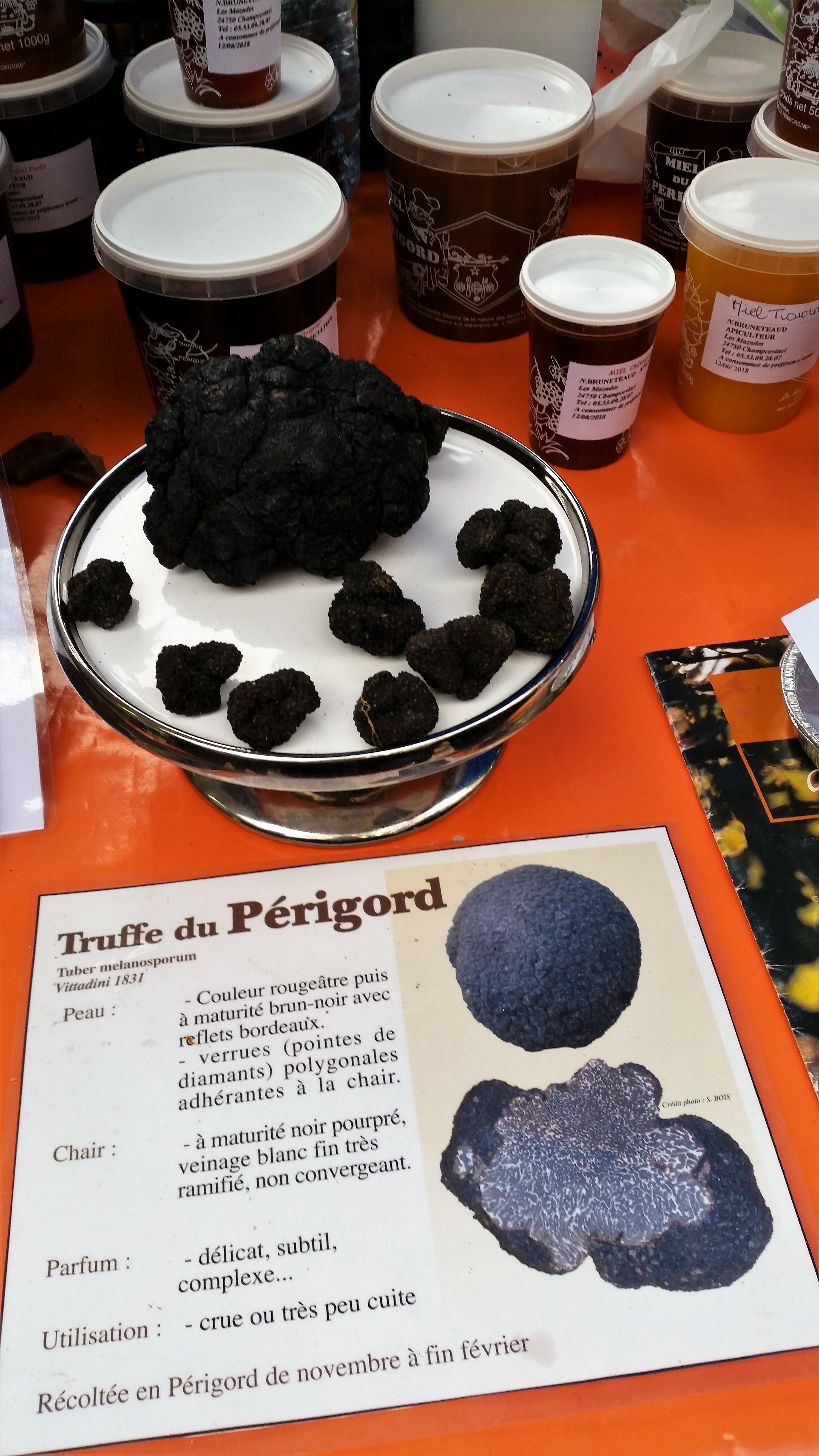 Perigord Black Truffle
Talking of black the most famous variety grows in the Dordogne called the Perigord Black Truffle or Truffe Noire de Perigord. This black truffle or tuber melanosporum grows underground among the roots of oak, hazel and chestnut trees. It can be temperamental and plant itself where it wants, so there are no hard and fast rules. Those lucky enough to have a truffle plot called a 'truffiere', will understandingly fiercely guard them.   These black diamonds as they are commonly known, are generally ready for harvesting in the late autumn/winter season. Female pigs love the truffle scent but enjoy eating them, so dogs are more popular used today. They can sniff out the fungi up to 30 cm below the surface leaving the human to dig it out, thus preserving it from damage. Find out more about buying and growing truffles here.
What are truffles used to flavour?
As for taste, the white truffle is the most pungent and along with the black are used sparingly as a flavouring for meat and sauces. Black truffles are also added for flavour in salt and honey. A note of caution please be aware that the truffle oil used to flavour olive oil is likely to be an artificial substitute! Once bought, a good idea is to keep it in an airtight container with eggs, as the flavour will permeate the shells adding a pleasing aroma to omelettes. When truffles age they shrivel and the taste consequently diminishes to, so pop them into rice to help preserve their moisture and flavour a little longer. 
Where can I find out more about Perigord Black Truffles?
To learn more about this black truffle, you can visit the 'Ecomusee de la Truffe' in Sorges some halfway between La Coquille and Perigueux in the Dordogne. Opened in 1982, this is the only museum in the world dedicated to this rare fungi. In fact, Sorges has been cultivating truffles for over two centuries and has earned its name as the capital of Frances truffle world. Here you can opt to follow a 3km walking tour (Sentier de Truffieres) to discover the secret hiding places of the truffle. For those that rather just to eat them, then the renowned Auberge de la Truffe restaurant in Sorges is famed for its menu dedicated to the truffle of course! Here you can even learn how to cook with the truffles in cooking sessions. Grate them on scrambled eggs, stuff them into scallops and infuse them in a sauce for the local duck. This short excerpt shows how to prepare your truffle.
Where can I buy the Perigord Black Truffles?
There are twelve markets in the Dordogne regulated by the Trufficulteurs Federation. This organisation ensures that the truffles you buy are the authentic Perigord variety and that they have been picked and stored in the best conditions. You then know buying at these markets guarantees you the best truffles and of course you can taste and learn more about using them there too.  Just a word of caution, try and get to the markets early as the truffle sellers can sell out quickly. Even half-past ten was too late me one Saturday in Thiviers, remember their availability is based on supply and demand. Not forgetting you are up against hoteliers and restaurants buying as well.
Monday morning
● Sainte Alvère: Last weekend in November to last weekend in February from 10 am to 1 pm – In the old market hall.

Thursday morning
● Excideuil - From December to March – Sous la Halle
● Saint Astier - From December to February in the market hall
● Terrasson - From December until end of February at The "Vitrine du Périgord" (Tourism Office)

Friday morning
● Brantôme - From December to February from 9 am to 12 noon at the Tourism Office
● Ribérac - From December till the end of February 

Saturday morning
● Bergerac - From December to February from 7 am till 1 pm - Halle du Marché Couvert
● Périgueux - From December till mid-February, depending on the production at the Place de l'Ancien Hôtel de Ville
● Sarlat - From December to mid-March - Rue Fenelon - from 9 am to 12 noon
● Thiviers – early November to early March in the town square from 9 am - 12 noon
Sunday morning
● Sorges - From December until end of January at 10 am - Galery Louis Pradel  
● St Geniès - City Hall
Truffles are just one of the great foodie reasons to visit the Dordogne during the winter season!