Top Festivals and events in South West France
During the year there are copious amounts of festivals, fairs and events in celebration of all that's wonderful about the Dordogne and surrounding areas.  From gastronomy and artisans to music and dance, and everything in-between.  Many are firm annual favourites and here are just a few we like the look of to wet your whistle!
Comic Strip Festival – Angouleme 4 days over last weekend in January
Angouleme is home to the Comic Book Museum but really comes alive each year when the 3rd largest fair in the world dedicated to the world of the comic strip come to town. Events across the city bring in massive crowds to enjoy artists, talks, shows, exhibitions and prizes given to the best in their game.
Goose Festival – Sarlat, early March 
The medieval streets hum with the sound of gaggling geese, stalls offer goose products and the chance to taste local goose cuisine. Workshops and demonstrations are followed by a sumptuous goose banquet that can be enjoyed by a ticket for all.
Strawberry Festival – Beaulieu Sur Dordogne, the second weekend in May
Just over the border of the Dordogne in the South lies the Correze famed for its strawberry production which mainly takes place around Beaulieu-sur-Dordogne. The types of strawberries that grow there are: "Gariguette", "Elsanta" and "Mara des Bois". Each year in May, a vast strawberry market takes place in Beaulieu where you can buy strawberries, taste the fair's mega-sized tart ( where 800 kg of fruit are used!) and of course, enjoy the entertainment!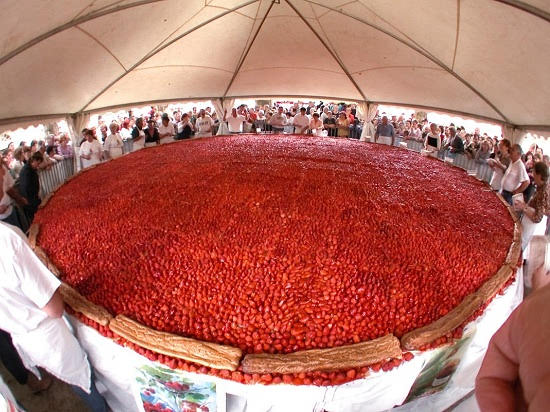 Floralies – St Jean de Cole, the second weekend in May 
One of Frances most beautiful villages goes floral when the medieval streets are decked with over 100 stalls selling plants and related goods galore.  The atmosphere buzzes and youngsters eagerly earn a few euro wheelbarrowing plants back and forth to awaiting vehicles. The village is dominated by the beautiful Chateau Marthonie, usually shut to the public, but at the Floralies, it opens a few rooms to house displays based on the annual theme and this year it's based on the four elements, earth, fire, air and water. With the 12th century Romanesque church and 15th century stone bridge and river as a backdrop, this extravaganza is such a sight to behold, that over 10 000 visitors frequent it over the weekend each year.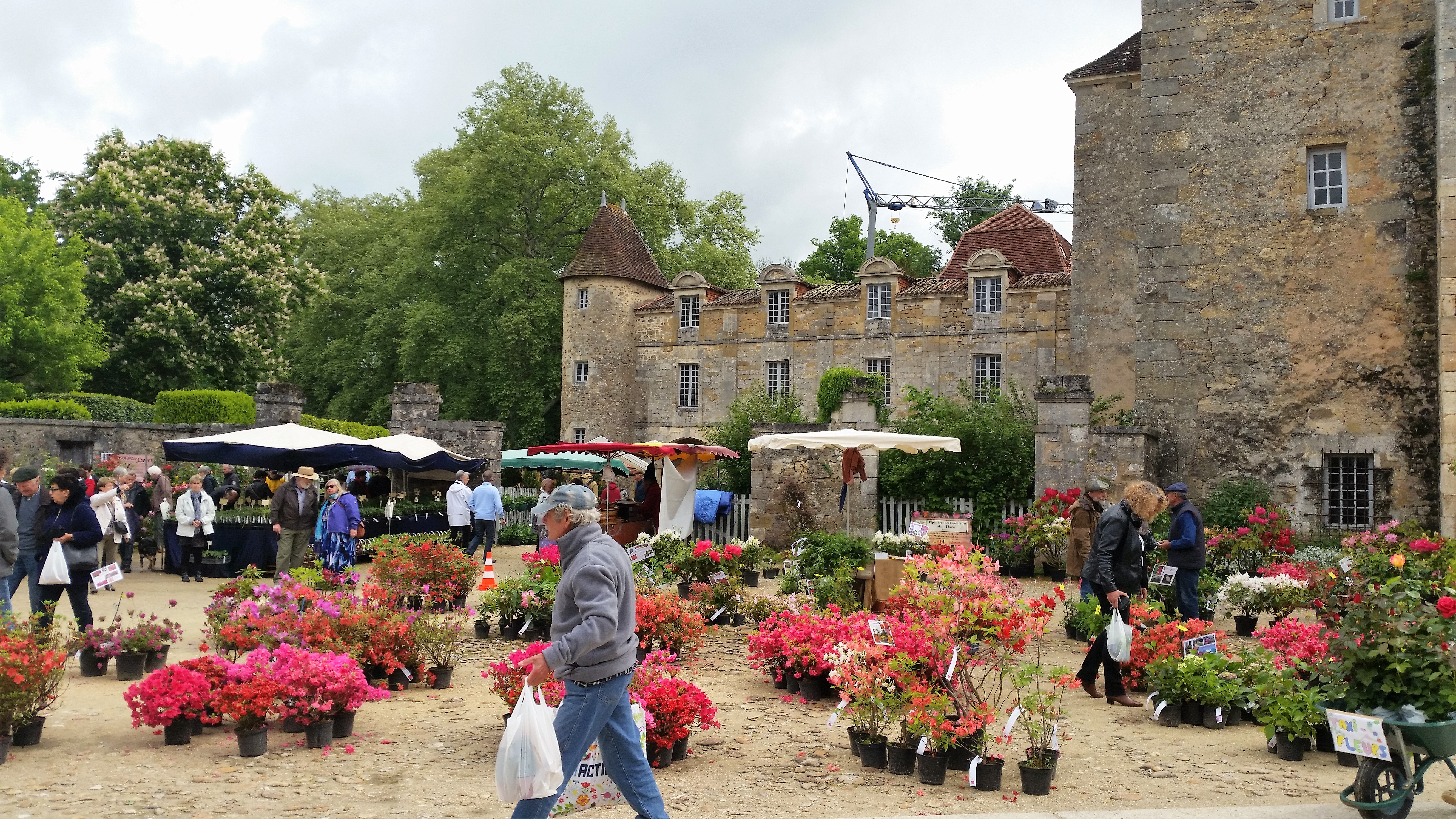 Filibree- early July is in its 101st year and brings together and highlights all things Occitan. Tens of thousands will rub shoulders at this popular event which changes location annually and includes the crowning of the Queen of Filibree.
Bastille Day - The 14th of July is a national bank holiday where every village, town and city has some unique way of celebrating this important event. In Miallet, you can experience its annual vide grenier, and join in at the end of the day with a communal meal followed by fireworks.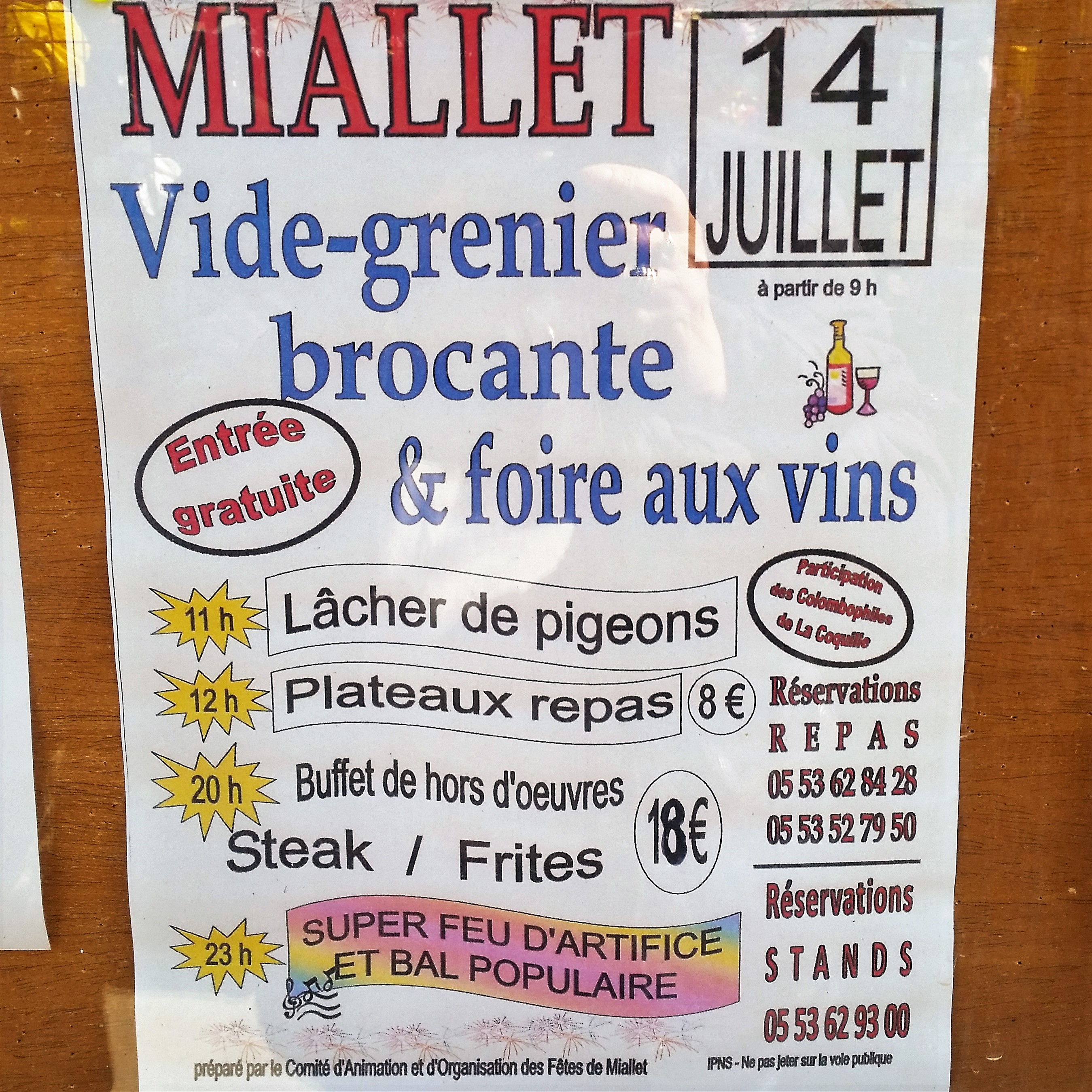 Snail Festival – La Coquille early July 
This 2-day event celebrates the humble snail when the village fills with stalls selling cooked snails in abundance. Children enjoy the rides and all the fun of the fair, while the adults discuss the merits of the different snail recipes on offer. For those that crave more then there is a snail farm that you can visit during the summer season.
Vintage Days – Perigueux, last weekend in August
This is a glorious 3-day affair where vintage from 1940 to 1970s is celebrated from every angle. The medieval streets are lined with over 100 superb examples of vintage vehicles and everywhere you look you see dancing, street shows, makeovers, stands and even the American GIs come to town. The event gets bigger and better each year and for 2019 its new sponsor the Pure Vintage Magazine will no doubt only add to its interest.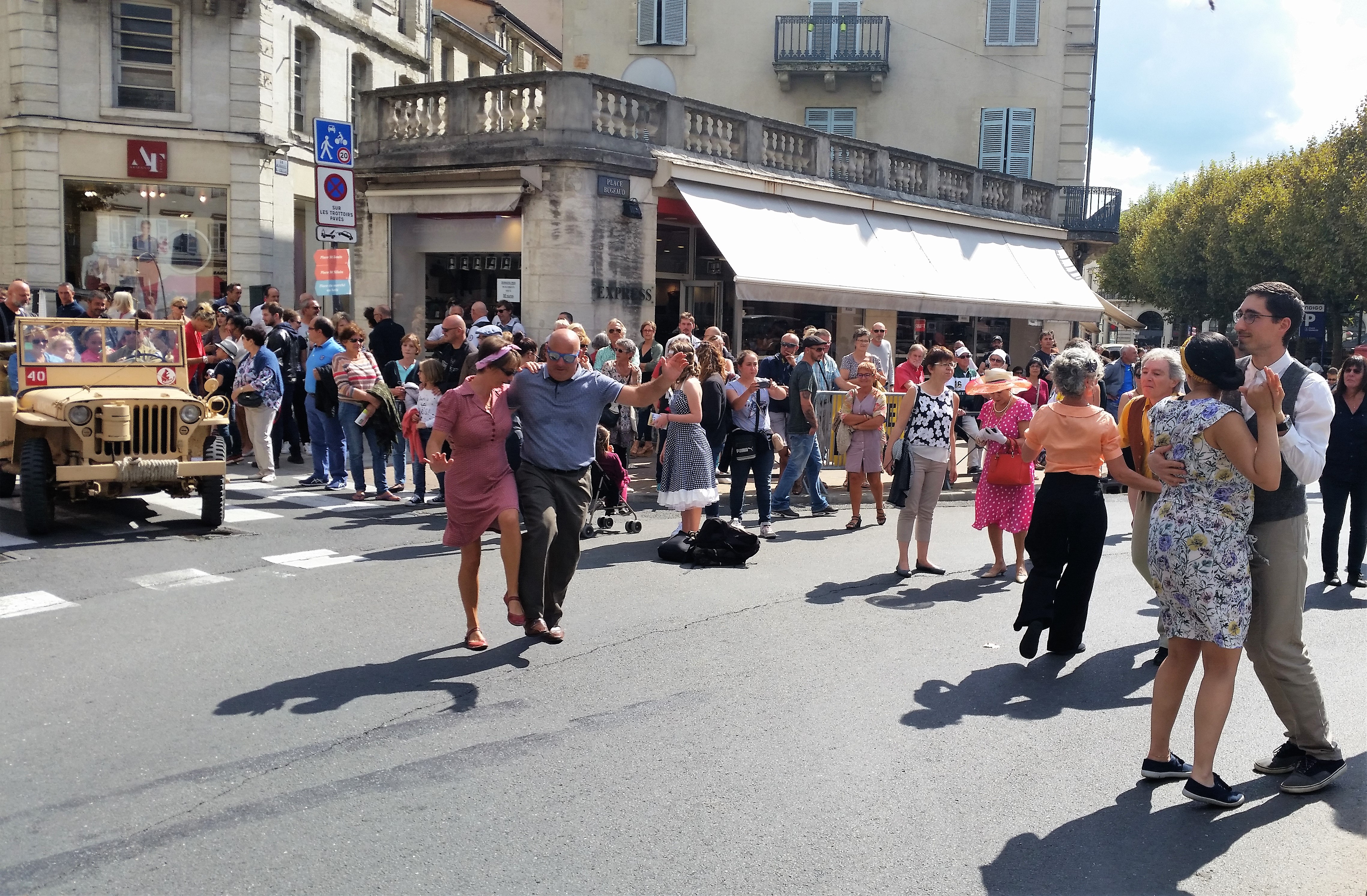 Chestnut Festival – Dournazac, last weekend in October
Each year the beautiful village of Dournazac celebrates all things 'chestnut' with a massive Sunday festival. Not only is there a huge market where you can taste and buy all sorts of delicious chestnut products, but you can even join the locals for a big 6-course feast for only €20 including wine. Watch artisans fashion, Chestnut, wood into stunning furniture and baskets, or learn how to make a chestnut pancake! However, the highlight has to be the Scottish piper marching ahead of a giant chestnut cake paraded for all to see on the shoulders of a dozen men.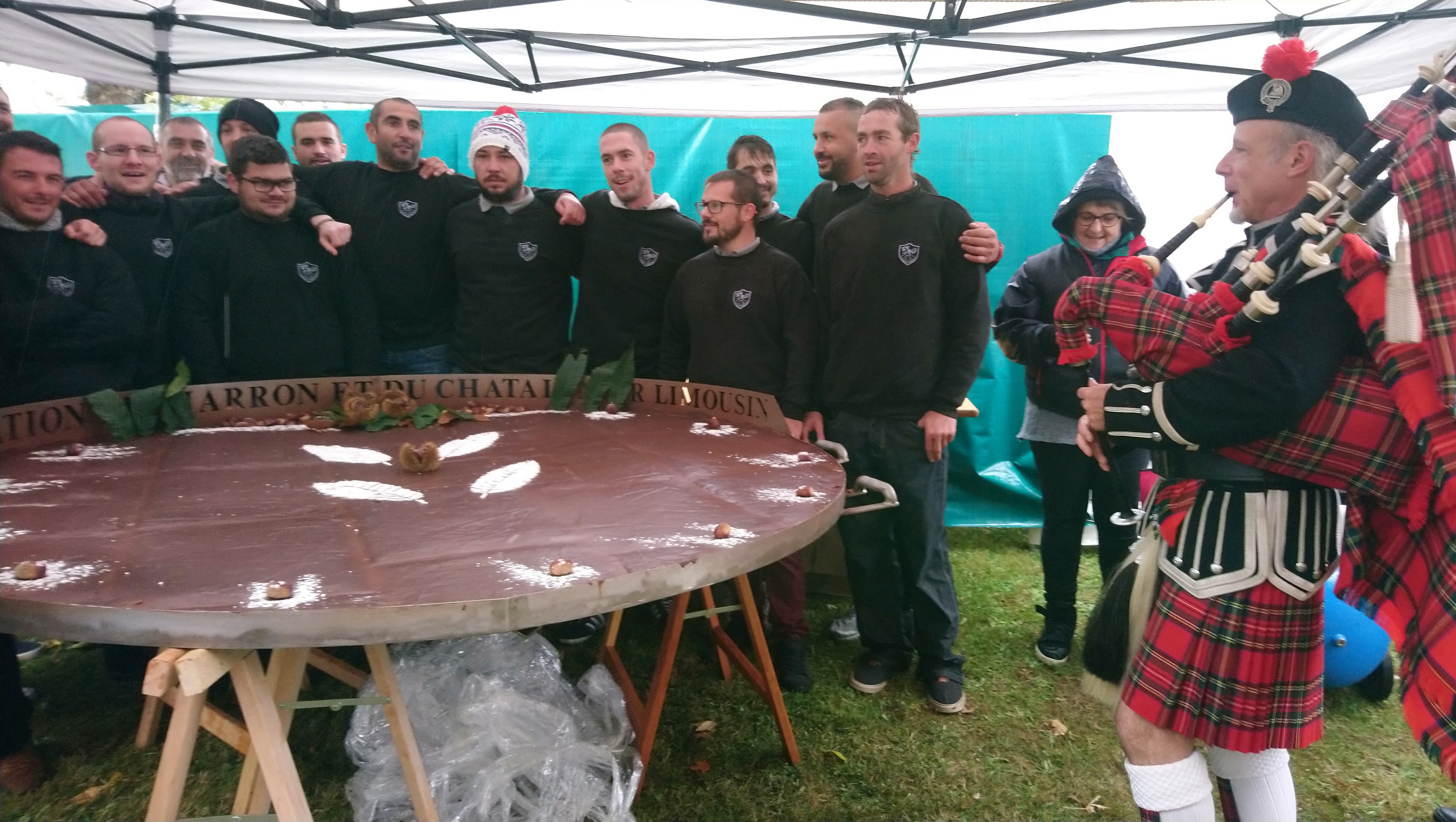 Turkey Fair – Varaignes, the second weekend in November
With a history that goes back to the 16th century, the turkey fair is Varaignes showcases more than 150 exhibitors that crowd the streets of the village for this French take on Thanksgiving. The programme includes turkey parades and tastings of semi-fermented vin bourru and roast chestnuts, both of which are local artisanal specialities. The Château hosts events, with musical accompaniment by brass bands and folk musicians. At 12:30, it's time for the great banquet that feeds more than 700 people in a friendly party atmosphere.
As you can see, there is an excellent variety of experiences, and this is just a small selection of a much wider choice. Hopefully, this list might go some way in helping you decide when might be a good time to visit and join in the many bountiful things the Dordogne and surrounding regions have to offer!