Discover the North Dordogne Velorail
What is a Velorail?
Let me introduce you to the Velorail, an interesting contraption powered by 2 pedals and uses 4 wheels to move along redundant railway tracks of yesteryear. It is also known as a rando–rail or cyclo-draisine in memory of the inventor of the bicycle.
Where did the name Velorail come from?
A tad about this inventor….In 1817, Charles Baron Von Drais of Sauerbrun devised a front-wheel capable of being steered. He then added a saddle and armrests and took his 'Draisienne' to Paris where in 1818 he had it patented under the name Velocipede. However, by 1869 wheels became wire-spoked and became known as a bicycle.
How many people does a Velorail seat?
Back to the Velorail which activates when two people take the saddles and push the pedals, whilst other 2-3 participants can simply sit and enjoy the ride. It's a fun way to see the local countryside from a different viewpoint and without the dangers of car traffic!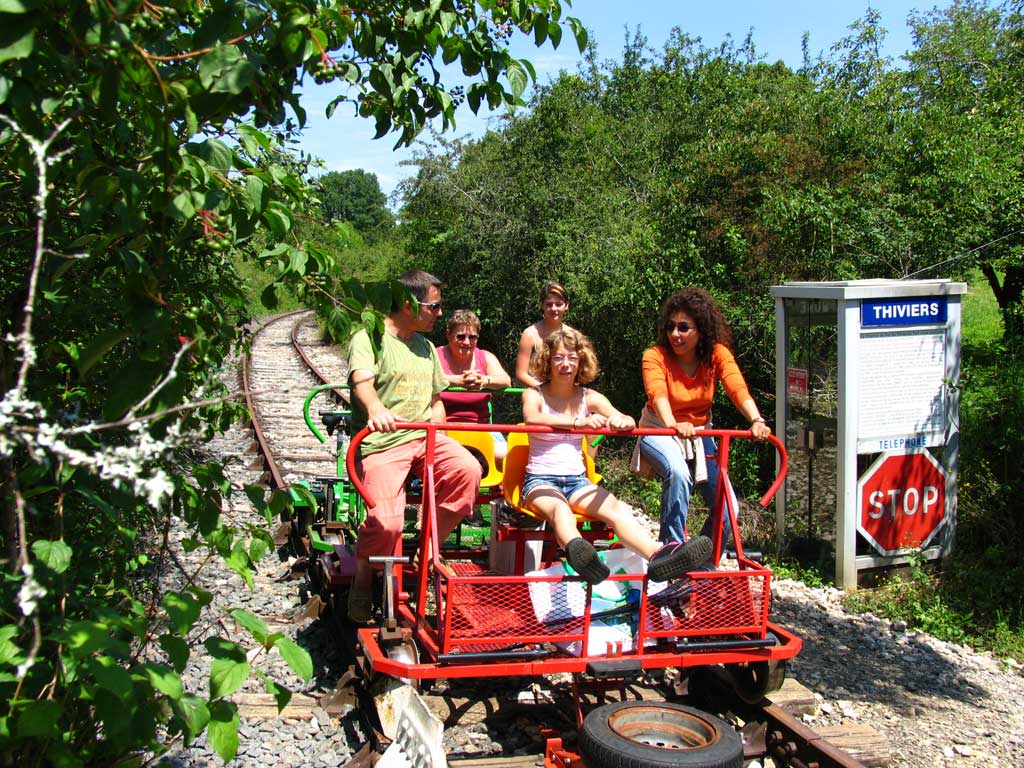 Is the Velorail safe?
A Federation of bicycle-rail and cyclos-draisine operators was created in 2004 and have established safety rules for the 40 odd Velorail networks that now operate across France.
Is the Velorail popular?
This leisure-transport mode which cleverly combines both sport and tourism is really started to catch on and more and more are discovering its unique charms.
"One push of the pedals and we were off.  We could breathe in the fresh air whilst being active. We were at one with nature and it felt good." commented Etoilee from Limoges on TripAdvisor.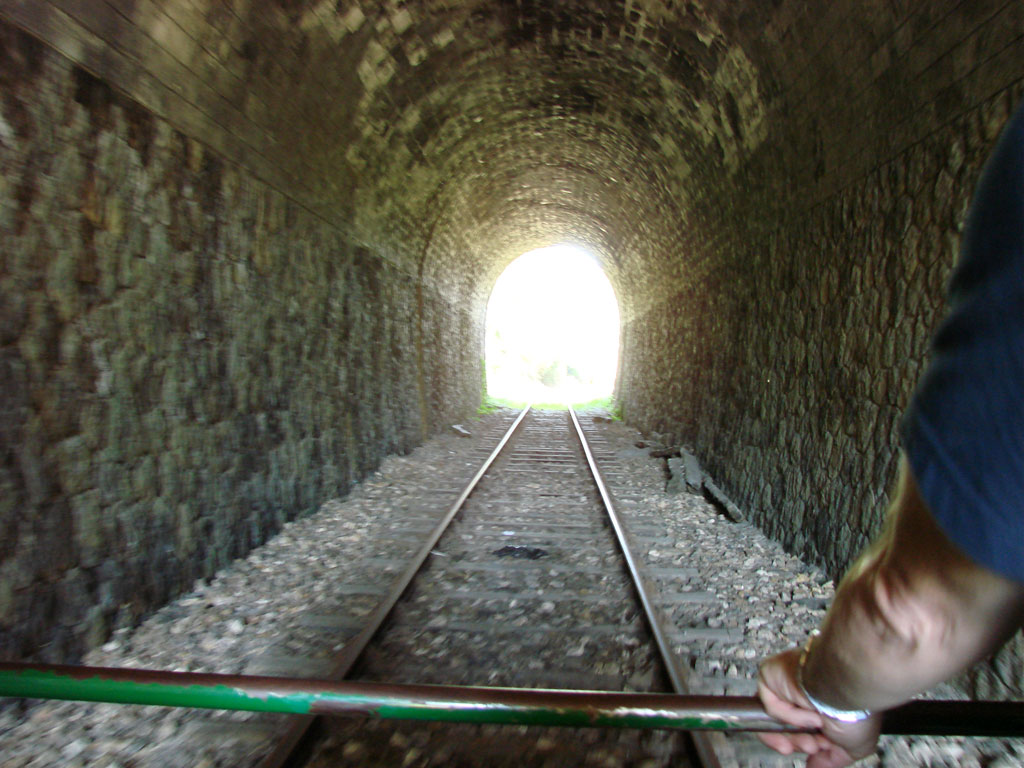 How fit have you got to be for the Velorail?
Peddling, however, is not necessarily for the faint-hearted and a certain amount of physical energy is required to keep going although on occasion it's possible to enlist a little electric help!
The Velorail in the Dordogne
The only Velorail in the Dordogne is located just off the N21 at Cognac Sur l'Isle in the North of the region (Perigord Vert). Operating spring to autumn, the morning operation does depend on how wet the tracks are, for too much rain will affect the adhesion. It's open daily with the exception of Saturday mornings which are reserved for groups. All journeys must be pre-booked and paid for on arrival with either cash or cheque only.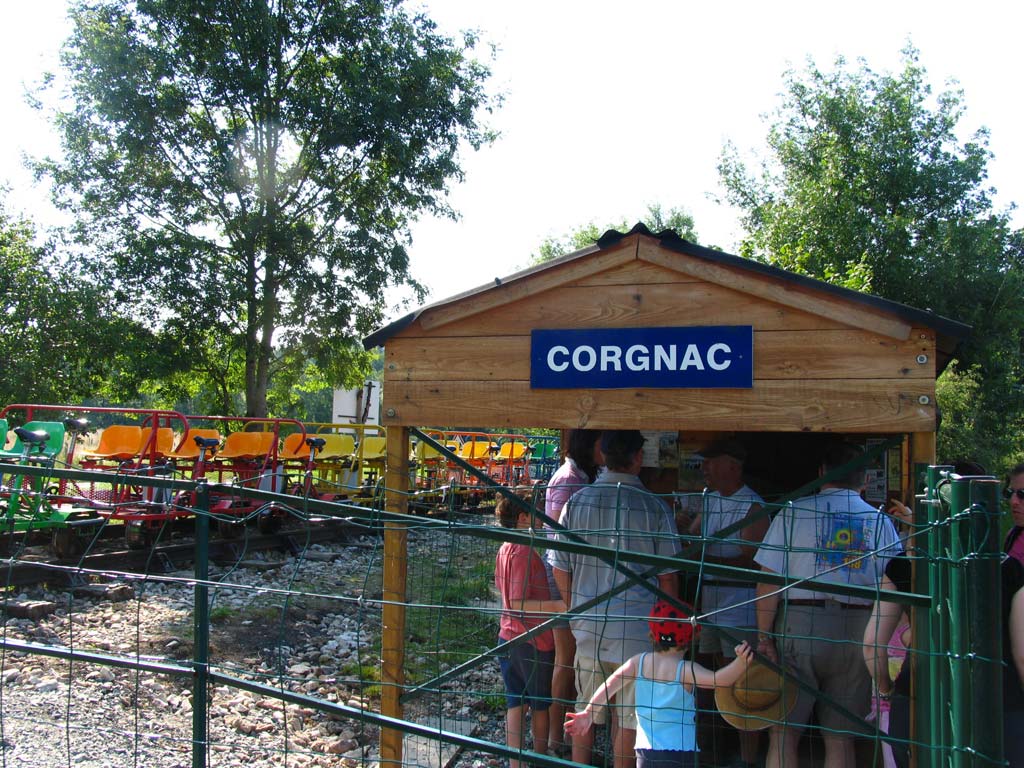 Velorail Timetable
30 am - Cognac to Thiviers les Chadeaux    14km
30 pm - Cognac to Thiviers les Chatignoles 10km
30 pm - Cognac to Thiviers les Chatignoles 10km
30 pm - Cognac to St Germain 12km
30 pm - Cognac to Saint Andriex 14km (this one has a 7km climb. If you pay an extra 10 euros you can have electrical assistance on this!
What do you see on a Velorail?
The above routes are full of charm with bridges, viaducts, tunnels and vintage stations sandwiched between luscious green valleys and rivers. Imagine yourself as a train driver as you ride along soaking up the views and marveling at the varied wildlife along the way.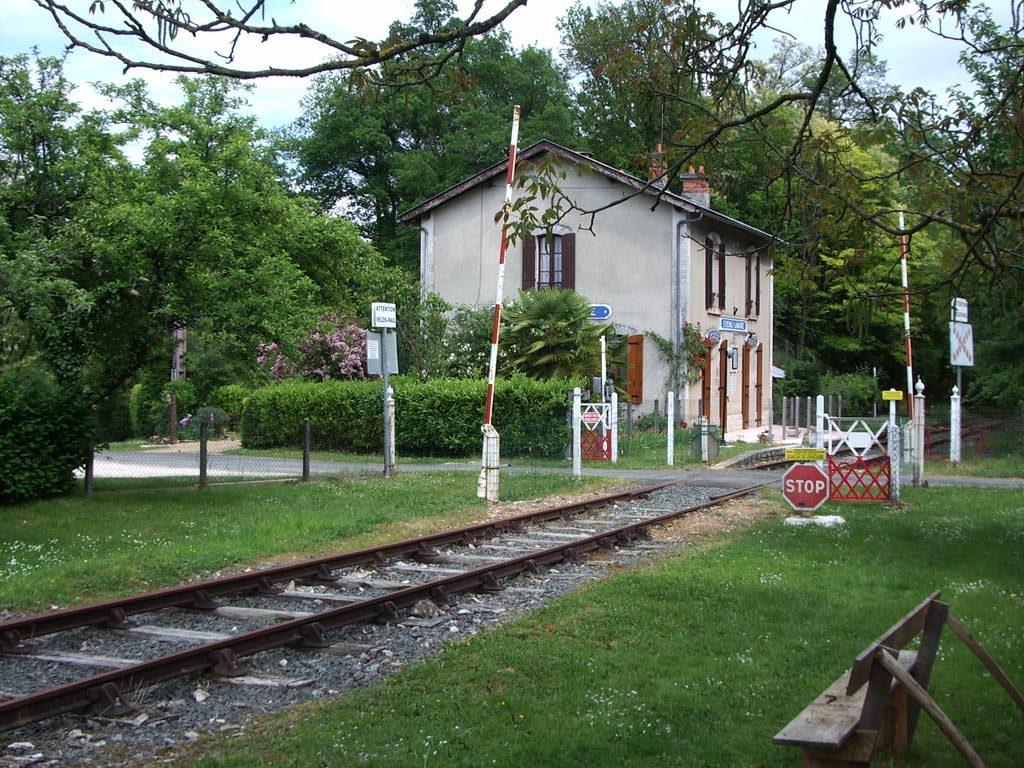 How much does the Velorail cost?
All trips last 2 hours each and costs are either 30 or 40 euros depending on the length of journey and cover a maximum of 5 people.
Evening Velorail trips?
In July and August, you can take a Thursday evening Velorail trip to Thiviers. It leaves Cognac at 6.15pm and includes a break for refreshments and ice cream before returning downhill almost without stopping to arrive back for 8.30 pm.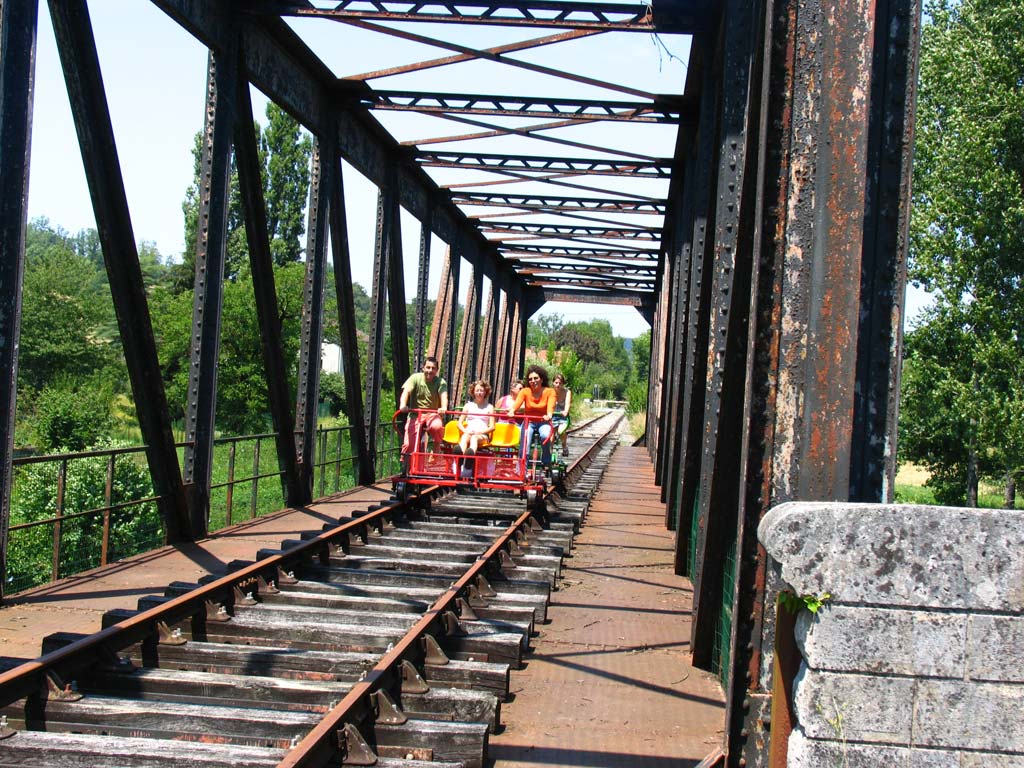 Who do I contact to make a booking?
Located just off the N21 just past Thiviers on the Route d'Excideuil, 24800 Cognac Sur L'isle, contact 05 53 52 42 93.