Celebrating Christmas in the Dordogne
Christmas in the Dordogne
Here in the Dordogne, the atmosphere of Xmas isn't entirely as commercial as you would imagine. You won't find card shops, crackers or tree decorations in abundance. Each village, in turn, wishes you a wonderful a wonderful Xmas as lights twinkle from every tree and lampost while piped music gets you in the spirit. And it's refreshing to see that the true meaning of Xmas is still observed as churches pull out all the stops in creating stunning nativity scenes.
The land of cheese!
Supermarkets start with a relatively modest display of foodie items in November, predominantly boxed chocolates, building up to a more serious affair with yet more boxed chocolates as the big day approaches. There is not a currant insight, so image no Xmas cakes or plum puddings, the nearest you will get is the odd jar of mincemeat on the British food section! What you will see is luxury food as no expense is spared when it comes to quality cuisine, for even Lidl has a chiller cabinet full of Caviar!   Where the French really do go to town on is with fresh food, so where UK supermarkets groan with pre-prepared ready meals, the French offer a token gesture in this department and instead give copious amounts of shelf space to cheese. Did you know there are over 400 types of cheese and as many again if not more variants so it's hardly surprising that they need a lot of space! But hey, what a cheese board you can present!
What no knitted Santas?   
Villages hold their annual Xmas fairs during November and December featuring delicious local produce including olive oils, cakes, chestnuts, walnuts and preserves. Non-foodie items such as handcrafted basketry make a pleasant change to the proverbial knitted Santas! It's actually the ex-pats who fill tables at this time of year with handmade cards, fudge and Christmas puddings for those that can't bare to see Xmas without one!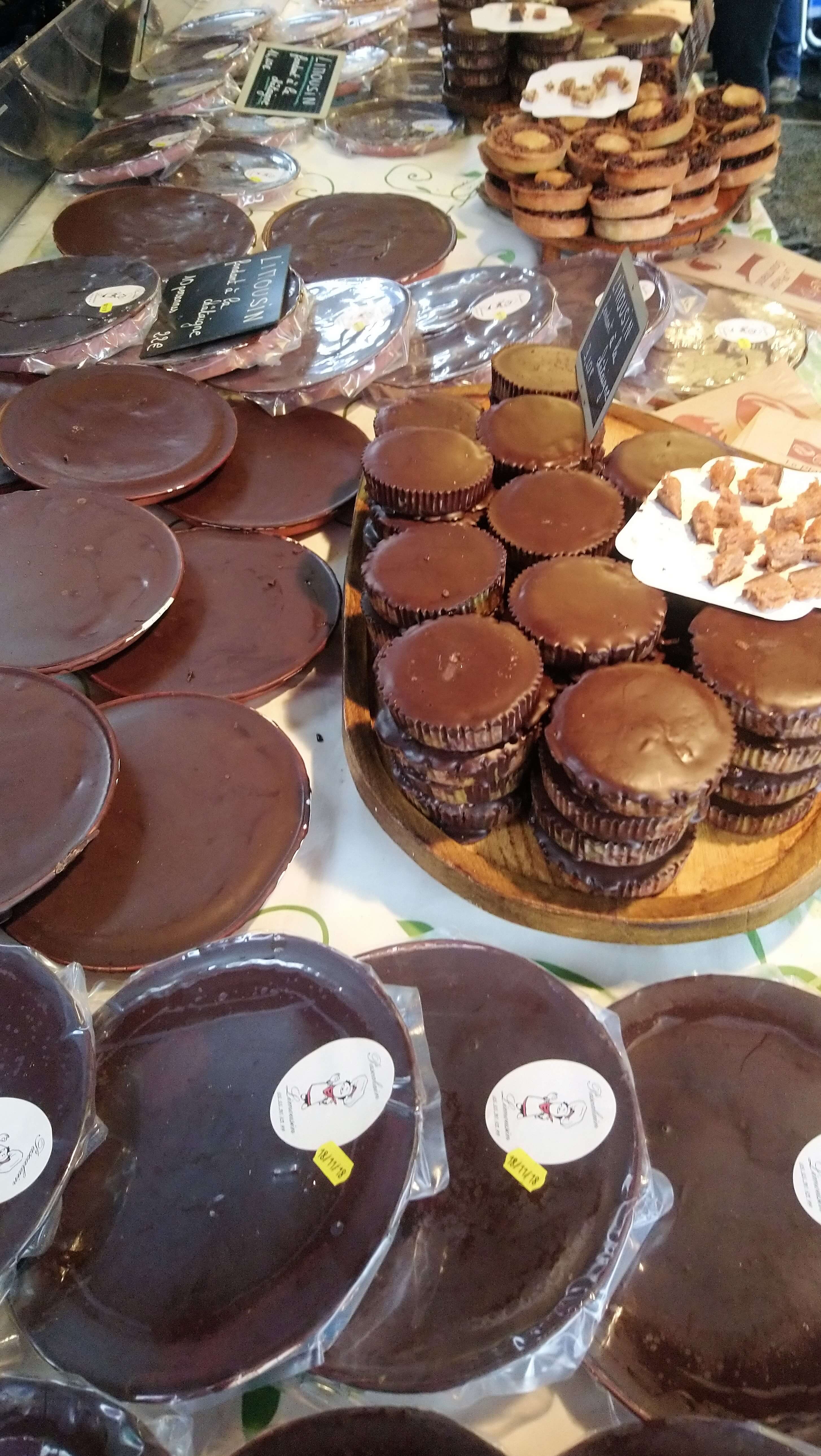 A month of Christmas Celebrations!
As for celebrations, the French have not one but four windows of opportunity to give presents. The first is on the 6th December, the feast of St Nicolas, which originates in the north from Alsace, French Flanders and Lorraine. This religious event is more for children, who traditionally put their shoes in front of the fireplace or front door and receive gifts. Then as Christmas draws closer large fairs in Limoges and Perigueux get underway. Germanic in style offering mulled vin (vin chaud) and all the traditional ginger biscuits, Xmas present gifts ideas and plenty of local produce from jams to chocolates.
Christmas dinner French style
The Xmas eve mass event is quite popular here after which the family return home for the Gros Souper (grand supper) also known as the Reveillon (Wake-up meal).  On the table will be thirteen loaves, a large one representing Jesus and twelve smaller ones for the disciples. Generally, the starter includes oysters, fois gras, escargot and caviar. This is followed by turkey, or goose stuffed with chestnuts. For dessert, the French favour a chocolate sponge and cream-filled yule log (Bouche de Noel). Tradition has it that a real yule log sprinkled with wine should be burnt from Xmas to the new year for good luck. Presents are then exchanged if of course, you are still awake!
Ringing in the New Year
Christmas is reserved for family reunions whereas New Year is reserved for friends and more gift exchanging. Once again no expense is spared when it comes to food to celebrate the change of year in style toasted in of course of with plenty of champagne!
You can't give up cake until after Epiphany
Finally, the last day of celebration is the Epiphany on the 6th January, where every bakery produces its own version of a special pastry, a marzipan-filled cake called a Galette de Rois (Royal cake). More for children, inside the cake, is hidden a charm, and whoever gets the charm in their portion is crowned king or queen for the day.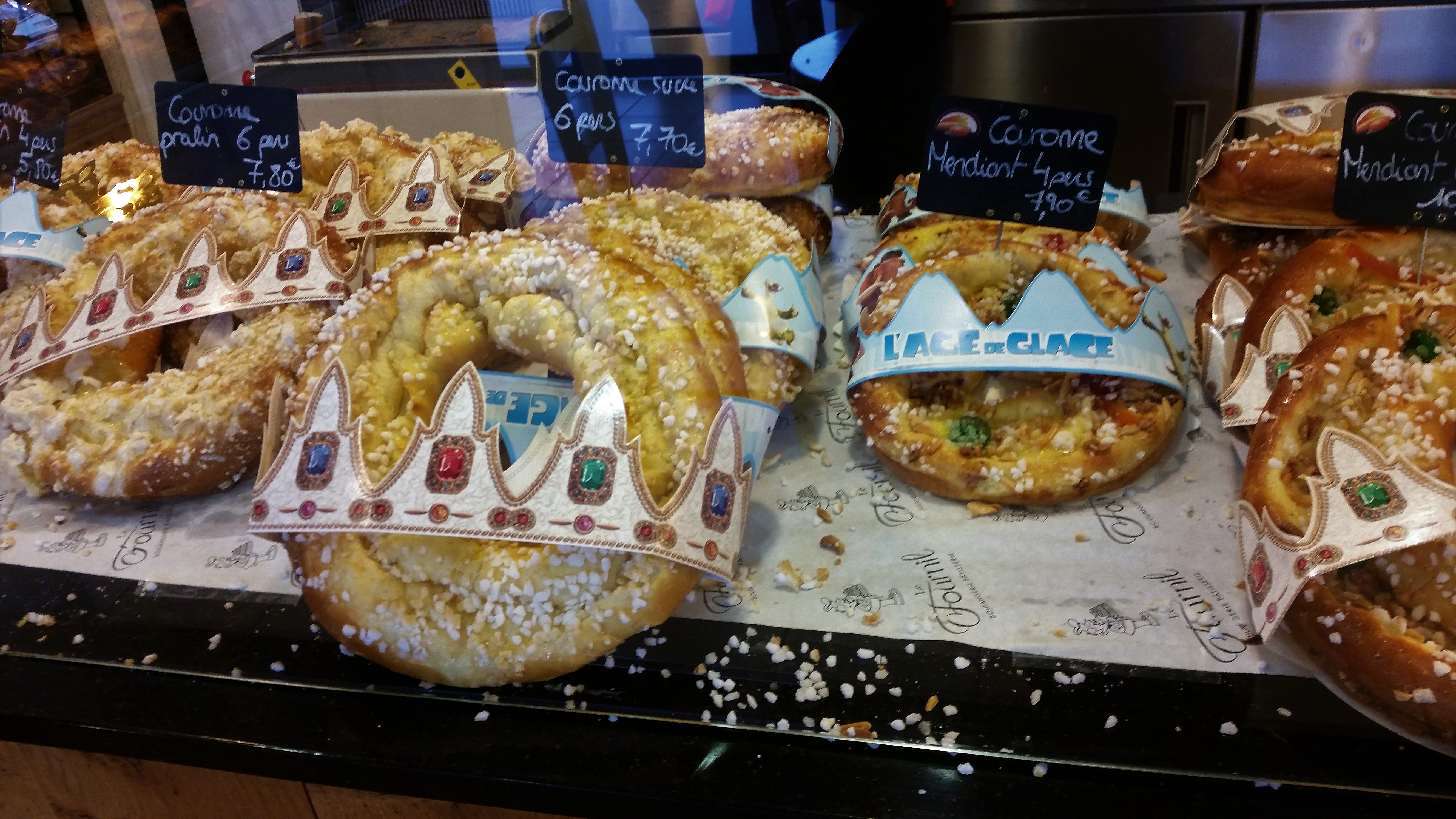 After a whole month of celebration, it's then time to give the stomach muscles a well-earned rest!